Italy to spend €2.9m to tackle invasion of aggressive blue crabs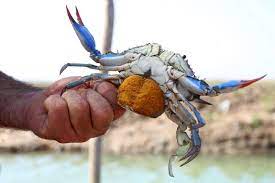 Rome: Italy has said it will spend €2.9m (£2.5m) to tackle an invasion of aggressive crabs that is threatening the country's role as one of the top producers of clams in the world – and potentially one of its signature pasta dishes.
The blue crab, originally from the western Atlantic, has spread across several lagoon-like locations in Italy, preying on local shellfish, fish roe and other aquatic life.
Clam aquafarms in the delta of the Po river valley in northern Italy have been hit particularly hard, with a local marine biologist telling Reuters last week the crabs had eaten up to 90% of young clams, almost wiping out future production.
Experts have said it is unclear why the crabs are now reproducing with such speed but there could be a link to climate change.
Italy's agriculture minister, Francesco Lollobrigida, visited the delta on the Po river on Saturday and said the government would approve the emergency funding.
The €2.9m will be given to fishing cooperatives and aquafarmers trying to curb blue crab numbers with a large-scale fishing campaign, Reuters reported.
Fishermen in affected areas have been advised to catch as many blue crabs as possible to cull their numbers.