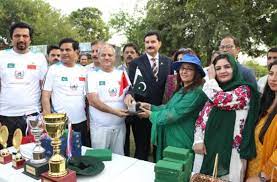 Abdullah Jan
Islamabad: The All Pakistan Chinese Overseas Youth Federation (APCOYF) organised the Jashan-e-Azadi cricket match between journalists and artists of the twin cities of Rawalpindi and Islamabad to express solidarity with the nation on the 76th Anniversary of the Independence Day.
The match played between the Media-XI and Showbiz-XI was won by the former that managed to meet the target of 90 runs at a loss of four wickets. The Media-XI was led by President Pakistan Federal Union of Journalists (PFUJ) Afzal Butt whereas the Showbiz-XI was led by Agha Shiraz.
The captain of Media-XI winning team, was awarded a trophy for his team's success by special guest former Federal Minister Faisal Karim Kundi and Ex-Chairman National Assembly Standing Committee on Interior Ahmed Hassan Dehar distributed prizes to all the players and congratulated President, APCOYF Aasma Butt for organizing the cricket match.
The 8-over Independence Day Celebration cricket match between Showbiz-XI and Media-XI was held here at Shaheed Zulfiqar Ali Bhutto cricket ground. After winning the toss, Showbiz Eleven opened the batting first and set a target of 90 runs at the loss of 6 wickets. In the team of Showbiz-XI, Babar Abbasi scored 22 of 7 balls.
The team of Media Eleven achieved the target by scoring 91 runs in 7 overs and 4 balls at the loss of 4 wickets. Samar Abbas scored 24 runs and Fayyaz Ahmed took 1 wicket from the Media Eleven team. Samar Abbas was awarded Man of the Match for his excellent performance.
President Aasma Butt congratulated all the players of Showbiz-XI and Media-XI for successfully participating in the charming Jashan-e-Azadi cricket match. It has always been my endeavor that hardworking and worthy people emerge from the platform of our federation.
Former Federal Minister Faisal Karim Kundi said that CPEC was a priceless gift of the Chinese government and it had turned the tide of the fate of the nation. He congratulated all the players for a convincing cricket match. Ex-Chairman Standing Standing Committee on Interior Ahmed Hassan Dehar said that winning and losing was part of the game. "Congratulations to both the teams for their excellent performance. Such events will help strengthen the relationship between the two countries," he said.