United States, Pakistan honor 75 years with commemorative stamp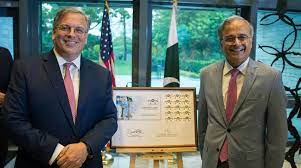 Liaquat Ali
Islamabad: The U.S. Mission to Pakistan culminated its year-long campaign marking 75 years of relations with Pakistan with a reception to honor Pakistan's issuance of a commemorative stamp.
The event was held at the U.S. Ambassador's residence and included Chief Guest Foreign Secretary Dr. Asad Majeed Khan as well as other prominent figures from Pakistan government, academia, and civil society.
U.S. Ambassador to Pakistan Donald Blome highlighted the long friendship saying, "this stamp, which highlights both country's symbols of freedom, not only marks the first 75 years of friendship, but manifests a vision for our future partnership in many arenas of shared purpose. It shows that we can accomplish great things when we work together."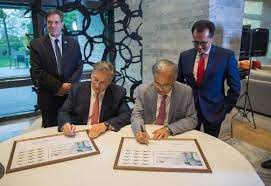 Speaking on the occasion, Foreign Secretary Dr. Asad Majeed said that Pakistan values its long-standing and broad-based relationship with the United States adding that the "U.S. has been our key economic and developmental partner for over seven decades."
The Ambassador and Foreign Secretary signed specially designed commemorative envelopes, or First Day Covers, along with the stamp. Guests were presented with their own version of the commemorative stamp to take home.