Bilawal Bhutto terms Pakistani youth as guarantee of better future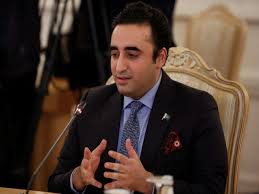 Liaquat Ali
Karachi: Pakistan People's Party (PPP) Chairman Bilawal Bhutto Zardari has termed the Pakistani youth as the guarantee of a better future for the country and said that now no power can stop Pakistan from progressing as the youth are determined to face every challenge and lead in every field.
In his message on International Youth Day, he said we are confident that for the development of a prosperous, strong, and progressive Pakistan, our young generation has the potential to lead in the field and on the front.
"Pakistan is a fortunate country that more than 63 percent of its population is in the age group of 15 to 33 years. Hence, Pakistan's greatest asset is our youth," he pointed out.
Bilawal Bhutto Zardari said that PPP must not miss any opportunity to utilize the talents of the youth for the progress and prosperity of the country and to give them maximum opportunities in this regard.
He reminded that Shaheed Zulfikar Ali Bhutto, during his tenure as Prime Minister, offered many jobs to the youth, before which the youth did not get jobs in such numbers, adding that Quaid-e-Awam Bhutto arranged for a large number of young people to get employment in friendly countries.
Shaheed Mohtarma Benazir Bhutto was famous among the people that, "Benazir will come and will bring employment (for all)".
"Pakistani youth, for the last time in the last three decades, got the most jobs and employment opportunities under the Awami government led by former President Asif Ali Zardari," he added.
He said that his party is fully aware of the problems and difficulties faced by today's youth, adding that provision of education and health facilities as well as employment opportunities to the youth is one of the top priorities of the PPP.
He assured that the youth should not be disappointed, we will all work together and take efforts to ensure quality education and employment for the youth. "We don't make false promises, we deliver what we promise," he contended.
Bilawal also supported this year's theme of the United Nations about International Youth Day, "Green Skills for Youth: Towards a Sustainable World," and urged that Pakistani youth must play a leadership role in tackling climate change, as their homeland is among the countries most affected by the climate change.