Chinese CG briefed on security measures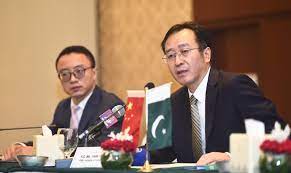 Karachi: Deputy Inspector General Police (DIGP) Security & Emergency Services Division Dr. Maqsood Ahmed met with Chinese Consul General Yang Yundong at the Consulate-General of the People's Republic of China in Karachi to discuss the security matters.
They discussed various matters of mutual interests including security measures for Chinese nationals, experts and other staff associated with China-Pakistan Economic Corridor (CPEC) projects and routes in detail, said an official statement issued here.
The DIGP briefed the consul general about the security measures adopted by Sindh Police in order to provide fool proof security to Chinese and other foreign nationals working on different projects including CPEC.
He saud that the Sindh Police was not only prepared to fulfil its responsibilities to control the law and order situation and protection of life and property of the people but also ensure the security of foreigners and implementation of current strategies and action plans made after consultations and suggestions.
On the occasion, Consul General of China thanked the Sindh Police on behalf of the Government of China for the overall security measures being taken in the province.
The Chinese consul general also expressed satisfaction over the security arrangements made by the police and assured his full support in this regard.