Global Young Leaders Dialogue very timely initiative: Ambassador Haque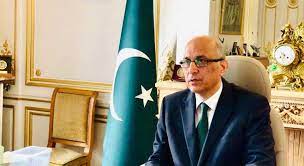 Beijing: Global Young Leaders Dialogue (GYLD) is a very timely initiative at a time and in a world that is faced with multiple challenges – geopolitical tensions, rising prices of food and fuel, energy crisis, climate change, hunger and poverty – putting pressure on many, especially on the developing countries in terms of economy.
These views were expressed by Pakistan Ambassador to China Moin ul Haque while addressing the Global Young Leaders Dialogue (GYLD) 2023 Annual Forum held in Beijing.
Themed as "Global Development and the Power of Young People", this year's forum gathered about 150 participants from nearly 30 countries and regions, including youth leaders, scholars, officials, and so on, China Economic Net (CEN) reported on Sunday.
On the occasion, participants shared insights on topics of global focus, such as cross-cultural communication, climate change and sustainable development of cities.
"Young people in all their diversity are a driving force in accelerating change for the realization of sustainable development goals, world peace, and a greener and healthier planet. I am so pleased to see a dialogue like this one has been convened by CCG in China," said Sima Sami Iskandar Bahous, Under-Secretary-General of the United Nations and Executive Director of UN Women.
Youth leaders attending the event pinpointed that with the rapid development of science and technology, it gets easier for young people to communicate with others around the world and share their views and experiences, thus promoting the integration of diverse cultures and mutual understanding.
For instance, when it comes to climate change, one of the major challenges haunting the world today, youth can promote sustainable lifestyles to society through education, innovation, and action, and inspire widespread awareness.
Jointly initiated by the Center for China and Globalization (CCG) and the Academy of Contemporary China and World Studies (ACCWS) in 2020, the Global Young Leaders Dialogue (GYLD) program is a unique communication, education, and professional development platform for young achievers with diverse regional, cultural, disciplinary, sectorial, and professional backgrounds across the globe.
The GYLD 2023 Annual Forum is the annual event of the GYLD program.