The EU's fight against environmental crime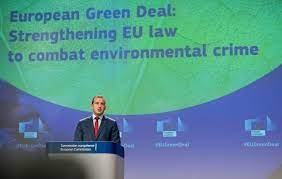 Brussels: Environmental crime is one of the world's most profitable organised criminal activities and has a major impact not only on the environment but also on human health. It is highly lucrative but it is hard to detect, prosecute and punish it. These factors make it highly attractive for organised crime groups.
The EU has taken action to combat criminal networks involved in all forms of environmental crime, including by introducing rules on waste management and on trade in wildlife and plants. The EU is also working on strengthening the existing rules on the protection of the environment through criminal law.
Law enforcement and customs authorities across all EU countries, EU institutions, agencies and bodies, as well as partner countries and organisations, work together to combat this form of crime through investigations, seizures and other police operations.
In this infographic you can find out what environmental crime is and the results of EU efforts against environmental crime under EMPACT, the EU's flagship initiative in its fight against organised and serious international crime.