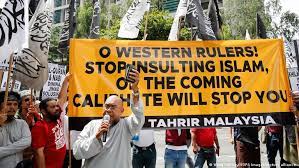 Brussels: Attempts by the European Union to bolster free speech in parts of Asia have taken another setback following protests from Muslim-majority countries in response to Holy Quran burnings across northern Europe this year.
The governments of Malaysia and Indonesia, among the largest Muslim-majority countries in the world, summoned European ambassadors and demanded criminal action after an Iraq-born protester tore pages from the Holy Quran and burned the religious book outside a mosque in Stockholm in June.
Similar acts of Holy Quran burning, some carried out by individuals with far-right links, were also conducted in other cities in Sweden, as well as in Denmark last month and in the Netherlands in January.
The Organization of Islamic Cooperation, a group of 57 Muslim-majority nations, has protested against the acts, while the UN Human Rights Council last month adopted a resolution calling on European states to change their free speech laws to prosecute "acts and advocacy of religious hatred."
In January, protesters in Malaysia gathered outsidethe Swedish and Dutch embassiesin Kuala Lumpur to demonstrate against Quran burnings that took place that month, while Malaysia's Ministry of Foreign Affairs condemned "in the strongest terms" the desecration of the Quran by a far-right activist in the Netherlands.
"Malaysia is appalled that such an Islamophobic act has been repeated within the last few days despite global condemnation," the ministry said after summoning the Swedish ambassador.
The Malaysian government has set aside around €2 million ($2.2 million) to print and distribute copies of the translated Holy Quran to other countries this year, including 20,000 copies to Sweden.
In Indonesia, reactions by Muslim groups have been mixed, said Andreas Harsono, a researcher at Human Rights Watch in Jakarta. Some reacted angrily, seeing it as blasphemy against Islam. But other groups saw that it was "a provocation to raise unnecessary reactions in Muslim-majority countries," he said.
Brussels has been keen to stress that what happens on the streets in Sweden, Denmark and the Netherlands has no bearing on the EU's policy or attitudes.
In March, the EU's foreign policy chief Josep Borrell restated the bloc's "strong and determined rejection of any form of incitement to religious hatred and intolerance."
"The desecration of the (Holy) Quran, or of any other book considered holy, is offensive, disrespectful and a clear provocation," Borrell said, adding that expressions of racism and intolerance have no place in the European bloc.
Peter Stano, the EU's lead spokesperson for foreign affairs, told DW that "we hope that our partners, not only in Malaysia and Indonesia, but in all Muslim countries, noted very clear statements of [Borrell] condemning these irresponsible actions by individuals who are burning Quran and describing it as unacceptable and disrespectful."
"We hope that our partners understand that this provocative and disrespectful behavior is not EU policy and has no support from any EU institution nor government of any member state," Stano added.
But the EU's rhetoric about respecting religions has "taken a big hit in all Muslim countries," including Malaysia and Indonesia, said Shada Islam, a Brussels-based commentator on EU affairs.
"Few Muslims in these countries see the burnings as a question of 'freedom of expression' but rather as a deliberately provocative Islamophobic act which is meant to stir hatred of Muslims within Sweden but also worldwide," she added.
While the Malaysian and Indonesian governments have condemned the practice of Quran burning itself, their ire has also turned towards the European authorities who permitted protesters to engage in such acts.
In June, following the Holy Quran desecration in Stockholm, the Malaysian Foreign Ministry said in a statement that it condemns in the strongest terms "the Swedish authority for granting approval" to the protester. It also urged the "Swedish government to take immediate action against the perpetrator of this heinous crime."