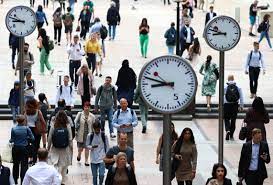 London: Basic wages in Britain hit a new record growth rate, figures showed on Tuesday, adding to worries for the Bank of England (BoE) about long-term inflation pressures even after 14 back-to-back increases in interest rates.
Official data showed some fresh signs of cooling in the jobs market with the unemployment rate unexpectedly rising to 4.2% from 4.0%, the highest since the three months to October 2021 and climbing more quickly than the BoE has forecast.
But the 7.8% increase in basic earnings – the strongest in records data back to 2001 – represented further impetus for Britain's high rate of inflation with many employers resorting to increased pay offers to retain or attract staff.
Annual pay growth including bonuses also accelerated, hitting 8.2%, the fastest outside the coronavirus pandemic period when government job subsidies distorted the data.
Economists had expected smaller increases in both measures of pay.
Sterling rose against the dollar and euro after Tuesday's data. Two-year British government bond yields, which are sensitive to speculation about BoE rate changes, hit their highest level in a month.
Samuel Tombs, an economist with Pantheon Macroeconomics, said wage increases were set to slow in the second half of 2023.
"It usually takes time for changes in labour market tightness to feed through to wage growth, and several survey indicators now point to slowing wage increases," he said, adding he expected the BoE's Monetary Policy Committee (MPC) would hike rates one more time to 5.5%.
"The momentum in wage growth still is too strong for the Committee to take a break just yet," Tombs said.
Pay growth looks set to overtake the rate of consumer price inflation which is forecast to have slowed to 6.8% in July in data due to be released by the ONS on Wednesday.
Markets saw a roughly 55% chance of the BoE's benchmark rates hitting 6% in early 2024, up from their current level of 5.25%. On Monday, the chance of rates going that high stood at about one in three.
Governor Andrew Bailey said earlier this month that the rate of pay growth was "materially above" the central bank's forecasts but the BoE also signalled it was getting close to pausing its run of interest rate increases.
Bailey and his colleagues may take comfort from some signals of a cooling in the labour market beyond the data on pay.
As well the surprise rise in the unemployment rate, the number of people in employment fell by 66,000 and job vacancies extended their run of falls to their lowest since mid-2021, also dropping by 66,000 on the quarter to 1.02 million.
Experimental payroll data from the tax office – which is more timely than the ONS data but prone to big revisions – pointed to a sharp pull-back in pay growth in July.
However, inactivity due to long-term sickness rose to a new record high, adding to the problems for employers seeking to fill job vacancies and adding to the pressure on pay growth.
The inactivity rate – which measures people out of work and not looking for it, and which the BoE hopes to see fall – edged up slightly, the first increase in roughly a year.
Public sector pay growth surged to a new record high, up by an annual 9.6% in the three months to June including bonuses, following a series of industrial actions that resulted in improved pay settlements for some groups of workers.
"Make no mistake, the battle to push up pay has been hard fought and it's certainly far from over," Sharon Graham, secretary general of Unite the Union, said.