In Italy, retreating Apennine glacier leaves ghost town behind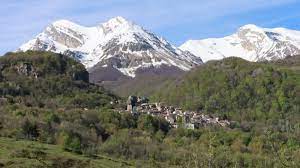 Rome: Once a trendy outpost for Roman actors looking for a weekend of skiing and nightclubbing, the town of Pietracamela in central Italy's Apennine range is now largely depopulated and confronted with a risk of social meltdown.
Pietracamela, in Italy's Teramo province, can easily seem like a ghost town. In early May, activity there is close to zero. Many of the stone houses built there over the past five centuries are empty, partly because of the two earthquakes that hit the region in the past 15 years.
Corno Grande, the highest peak in the Apennines and second-highest in Italy outside the Alps, towers above the village from its 2,912 metres, next to the Corno Piccolo (2,655 m), the other peak of the Gran Sasso massif.
Meanwhile, the Calderone glacier creaks below the three peaks of Corno Grande as its ice melts and turns into water. In spring, avalanches are frequent. A thousand metres downstream, torrents swell. Residents manage issues that often come up in mountain regions, such as thunderstorms and streams that cause cracks on the town's roads.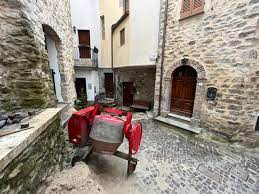 With its extreme weather patterns, global warming further complicates life in this mountain community, which has already suffered from earthquakes that hit L'Aquila in 2009 and Amatrice in 2016-2017.
Pietracamela used to be a trendy tourist destination in winter and summer, with three nightclubs and a piano bar: a hangout for the jet set and Roman actors from the Cinecittà, which marked the golden age of Italian cinema in the 1960s.
Apart from houses destroyed by earthquakes, little has changed: the local gas station still carries the old lira currency.
The surrounding nature, however, is changing fast. The Gran Sasso glacier, one of the southernmost in Europe, lost its status. Between 1999 and 2000, the glacier separated into two smaller parts, and became "glacierets" according to scientific terminology.
This process, which made the Cauldron a simple "glacial system", occurred as the ski season shortened. Older residents remember that one could ski on Prati di Tivo from November to May; even longer on the glacier. Now the first snowfall often comes after New Year's Day.
"In the last five to 10 years, snowfall has been scarce during winter but very frequent in April and May," says Massimo Pecci, an expert at the Italian Glaciological Committee for the Calderone.
Pecci, who is also a university professor of glaciology and nivology, explains that the situation can be seen in many of Italy's nearly 4,000 mountain municipalities.
Local ski lifts no longer work throughout the winter season, despite the recent purchase of artificial snow systems.
So in winter and spring, tourists tend to come only for ski mountaineering, a more difficult sport reserved to confirmed skiers only because it requires strenuous ascents. That means fewer tourists and less revenue for locals.
In winter and spring, tourists tend to come only for ski mountaineering, a more difficult practice reserved to confirmed skiers because it requires strenuous ascents. That means fewer tourists and less revenue for locals. [Photo: Sergio Matalucci]
With fewer tourists, local residents looked for jobs elsewhere and the population started to decline. All of this decreases tax revenues for the municipality, which struggles to afford maintenance activities to keep the ski resort going.
"Mountains require continuous attention. Without maintenance and monitoring, avalanches are inevitably more likely. It's nature taking over," Pecci says.
As humans leave Pietracamela, nature fills the void. Wolf populations are on the rise, attracted by the deer and wild boars, which often cross the country's roads around sunset.
The return of wildlife is directly related to the decline of Pietracamela's population. There are no more schools in the area, the "young Sherpas" are in their 40s and 50s. Intermesoli, a hamlet of Pietracamela, recently celebrated the arrival of the first two children in nearly two decades.
"If things continue like this, Pietracamela will disappear. We will disappear in 20 to 25 years. No one will live here anymore," says Linda Montauti, the owner of one of the two remaining restaurants in the village.
According to official data, the population in the village dropped from 1,389 inhabitants in 1951 to 310 in 2002. Twenty years later, there were only 222 left. But locals point out that these numbers are only theoretical.
Among other incentives, the government of the Abruzzo region offers €2,500 for each new household that moves residence to mountain villages with fewer than 3,000 inhabitants. According to locals, a more realistic figure for permanent residents in the village is around 25 to 30 people.
Linda's father, a former mayor in the municipality, says politics can also be an obstacle. As the population decreases, national politicians tend to pay less attention to the needs of depopulated areas.
"Seaside towns will get priority because they represent a better chance of winning regional and national elections," says Luigi Montauti, who has tried during his three terms to promote the construction of a new road. Without success.
There is still only one way to get to Prati di Tivo, a ski resort a few kilometres from the town office. It is the same road that leads to Pietracamela and Intermesoli.
Unsurprisingly, the local government-owned operator of the local ski lifts ended up going bankrupt.
For more than four years, people have tried finding a solution, including a legal one, to what locals call a case of mismanagement of public infrastructure. Despite difficulties, the facilities have reopened for the summer season. The cable car and gondola are crucial for the area, local people explain.
In summer, the area comes back to life, especially during weekends. Tourists usually come for a couple of days to cool off or enjoy a dinner at high altitude.
This summer, however, saw the emergence of an alarming trend: resorts are posting record-breaking temperatures. Franchetti Refuge, 2,433 metres above sea level, witnessed 22.3°C in mid-July 2023. In the valley, temperatures climbed to 36°C.
To attract more visitors during spring and autumn, the municipal administration also sought authorisation to install a zipper line connecting Pietracamela to the neighbouring town of Fano Adriano.
"We would like to spread the tourist flow over several months. Summer tourism is dynamic, but not enough to allow all existing facilities to function," says Salvatore Florimbi, the town councillor of Pietracamela.
From Corno Grande (2,912 metres), during clear days, it is possible to see both Italian coasts, the Adriatic and Tyrrhenian seas. Under favourable weather conditions, photos of the area are definitely worthy of sharing on social media.
For the time being, though, young people in the region are not interested.
"My students see the mountains as a challenging experience. I bring them here, but they don't appreciate it. They prefer the sea," says Rosaria Fidanza, a teacher at a hotel school in Teramo, a 40-minute drive away. The sea is one hour from Pietracamela.
There are legal constraints too. Pietracamela sits in the middle of a nature reserve, the "Gran Sasso and Monti della Laga National Park", which imposes strict nature conservation rules.
In the case of the zipper line, the question was whether the infrastructure and its construction could irreparably compromise the nesting of peregrine falcons and golden eagles. The zipper line, in the end, could never be built.
Meanwhile, reconstruction after the earthquakes continues, although second-home owners have lost the habit of returning to Pietracamela, partly for fear of new tremors.
Locals do not give up, however. Over the past 15 years, Pasquale Iannetti, the region's historical guide, has opened new climbing routes with colleagues, while public authorities are working on plans to add the village to a network of trekking trails.
Pietracamela is also considering using temporary homes for earthquake victims, which are gradually being vacated, perhaps offering them as residencies for artists.
The town, which is already part of the network of Italy's most beautiful villages, is also famous because it was the birthplace of artist Guido Montauti. Historical tourism could be part of a rebirth plan, locals hope. With global warming, new opportunities may also crop up.
"Heat waves will increase even more in cities, so there may be a migration to cooler areas during the summer months," suggests Vanda Bonardo, an expert with the environmental association Legambiente.
Indeed, temperatures in Pietracamela are milder than in the nearest city, Teramo. In the last week of July, the temperature there was 5°C lower on average. Water is also widely available for now, although this should not be taken for granted.
"In the last two years the drought problem appeared less severe in the mountains of central Italy," Bonardo explains.
"In the Alps, the two drought years that have just passed foreshadow what could become one of the great problems of the coming years and decades: the aridity of European mountains"