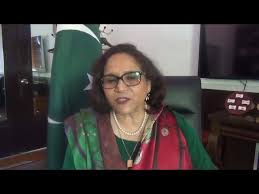 Islamabad: Former Pakistani Ambassador to China, Naghmana Hashmi has emphasized the importance of creating a comprehensive long-term energy plan led by experts and establishing a monitoring system to ensure equitable access to energy and eliminate energy shortage in Pakistan.
She shared these views during a policy dialogue on the China-Pakistan Just Energy Transition Partnership (JETPs), organized by the Sustainable Development Policy Institute (SDPI) and the Pakistan China Institute (PCI).
Hashmi highlighted that by reforming economic and energy policies, there was a potential to enhance energy access for industries and rural areas, thus driving export growth and economic progress.
On this occasion, Wang Shengjie, from the Chinese Embassy in Pakistan, noted that the global energy landscape shifted due to energy inflation during the Russia-Ukraine conflict, urging Pakistan to adopt flexible energy policies to facilitate a smooth energy transition.
He pointed out the untapped potential of Biomass and Waste-to-Energy sources and stressed the need for energy efficiency to address circular debt issues and attract foreign investment. Dr. Hassan Daud Butt, Senior Advisor and Research Fellow at SDPI, emphasized the financing opportunities for clean energy within the Belt and Road Initiative (BRI) countries, urging the Pakistani government and international financial institutions to promote affordable clean energy technologies.
Dr. Christopher Nedophil of Fudan University highlighted China's significant energy financing to Pakistan, which has led to a substantial increase in coal-powered generation. However, clean energy transition faces challenges due to policy inconsistencies and local political influences. Mustafa Hyder Sayed, Executive Director of PCI, stressed that strong political will and decisive actions are crucial for driving clean energy transition and attracting foreign investments.
Sayed suggested launching pilot projects to shift from fossil fuels to renewables, aiming to bridge the gap between policies and actions. Moeen Abbas, CEO of Moony Holdings, pointed out the misalignment between risks and rewards in the energy transition process and its impact on power companies.
Dr. Khalid Waleed, a Research Fellow at SDPI, emphasized the financial requirements of Pakistan's clean energy transition and recommended integrating Pak-China Just Energy Transition Partnerships (JETPs) into the strategic partnership between the two countries.
He stressed the need for collaboration between ministries, academia, and the private sector to develop a comprehensive energy expansion plan. Ubaid ur Rehman Zia, Senior Research Associate and Lead of the Energy Unit at SDPI, emphasized the need for an exit strategy for Chinese investments in thermal assets and the economic rationale for transitioning to sustainable energy, given the negative environmental impact of coal expansion on climate finance flows.