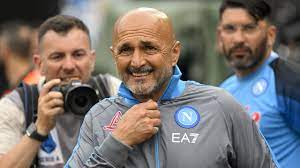 Rome: Luciano Spalletti, crowned Italian champion with Napoli last season, was on Friday handed the task of reviving the Azzurri, five days after Roberto Mancini's shock resignation as Italy coach.
Spalletti's main objective will be to qualify the European champions for the 2026 World Cup in the United States, Canada and Mexico, after Italy missed the 2018 and 2022 editions.
The FIGC said in a statement they had "reached an agreement with Luciano Spalletti for the position of coach of the Italian national team starting from September 1".
"Let's welcome Spalletti," said FIGC president Gabriele Gravina, "the national team needed a great coach and I am very happy that he accepted the technical guidance of the Azzurri."
The duration of his contract was not specified, but according to the Italian press, it would cover three years until 2026.
The FIGC said Spalletti would be presented officially at the national training centre at Coverciano, near Florence, before Euro 2024 qualifiers against North Macedonia and Ukraine in early September.
Spalletti had been out of a job since he left Napoli, just weeks after leading them to the third Scudetto in their history.
Negotiations had been complicated because his contract with Napoli, which runs until June 2024, included a clause requiring him to pay compensation of 3 million euros ($3.3 million) if he takes up a new position.
Napoli president and owner Aurelio De Laurentiis had refused to release the Tuscan coach from this obligation.
The FIGC did not specify whether an agreement has been reached with Napoli.
But before thinking about the next World Cup and healing the traumas of a nation, the new Azzurri coach will have to put his team, reigning European champions, back on track for Euro 2024 which will take place in Germany.
Italy are third in Group C with three points after a 2-0 win over Malta and a 2-1 loss to England, who are top with 12 points from four games.
"His enthusiasm and his expertise will be fundamental for the challenges that await Italy in the coming months," said Gravina.