Bills become law after no objection from president within ten-day: Caretaker Law Minister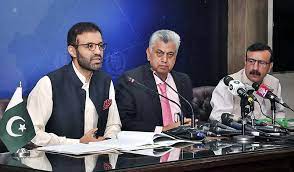 Celina Ali
Islamabad: Caretaker Minister for Law and Justice Ahmed Irfan Aslam on Sunday said that under Article 75 of the Constitution, a bill automatically becomes law if the President didn't approves or reject it within stipulated time period of ten days.
He was addressing a press conference along with Caretaker Minister for Information Murtaza Solangi here.
The law minister said that the caretaker government has no political agenda and its mandate was also limited. He said that being the head of the federation, the president is revered in all of our hearts.
He said that 'The Pakistan Army (Amendment) Bill 2023 was received by the presidency on August 2, while Official Secrets (Amendment) Bill reached there on August 8, after being passed by the two houses of the Parliament.
The caretaker law minister said that when a bill is sent to the President, he has two options: either to approve the bill or send it back to the Parliament with his observations in writing. There is no third option under Article 75 of the Constitution, he said, adding that ten days of time period is fixed in the Constitution to exercise one of these options.
Ahmed Irfan Aslam said that the President has exercised these powers many times in the recent and distant past. The President gave observations in many laws and also sent back bills to the Parliament, he said.
Before today, he said, no such situation has come before us that anything has returned from the presidency without the signatures of the President.
The law minister said that these two bills have not been received back from the President Office despite Article 75 of the Constitution clearly provides a period of ten days in order to avoid any political ambiguity. If the President does not exercise the authority within this time period, the bill is considered to be approved and automatically becomes law as per the constitution, he said.