Pak-Russia relations termed crucial for global stability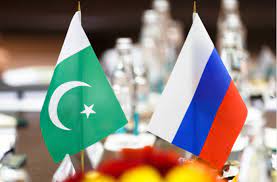 Abdullah Jan
Islamabad: Ambassador of Russia to Pakistan, Mr. Danila Ganich Monday termed mutual relations between Russia and Pakistan as crucial for both countries' national interests and global stability. He was addressing the opening ceremony of the Open Education Center at Allama Iqbal Open University (AIOU) yesterday.
This center aims to teach the Russian language to Pakistani students at the Allama Iqbal Open University. Speaking on the occasion, the ambassador said that the Open Education Center of the Russian Ministry of Education will play a significant role in strengthening Pakistan-Russia relations. The Russian Ambassador emphasized the need to strengthen the relationship between universities and achieve common goals. Vice Chancellor AIOU, Prof. Dr. Nasir Mahmood stated that Russia and Pakistan have had strong relations for 75 years which needs to be further enhanced through academic collaboration.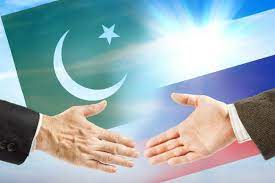 Deputy Minister of Education of the Russian Federation, Denis E. Gribov, Deputy Executive Director of Russian Geographical Society, Mr Sergey V. Korlykhanov, Pakistan's Counselor to the Russian Federation, Zafar Yab Khan, President of the Ural Chamber of Commerce and Industry, Andrey A. Besedin, addressed the ceremony online and congratulated Vice Chancellor AIOU, Prof Dr Nasir Mahmood and Rector USPU, Prof Svetlana A. Miniurova on setting up the "Open Education Center " in Allama Iqbal Open University. They acknowledged the collaboration between the universities and highlighted that this platform will lead to exploring more avenues of partnership to further strengthen the relationship between the two countries.
Director, of the International Collaboration and Exchange Office, Dr. Zahid Majeed said that an MoU was signed between AIOU and USPU on April 17, 2023, for the establishment of this center. He added that we received 1100 applications for the Russian language course and selected 300 candidates based on merit. The candidates were taught online for 3 weeks in the first phase, and the next phase will involve face-to-face teaching for two months. Additionally, the university will soon establish a "Turkish Language and Culture Center." Dr. Ghulam Ali, Director, of the Center for Language and Translation Studies AIOU, also spoke at the ceremony.
The Rector, of Ural State Pedagogical University (USPU) Russia, Prof Svetlana A. Miniurova, Vice Chancellor, Allama Iqbal Open University, Prof. Dr Nasir Mahmood, Deans and Principal Officers of the University were present at the opening ceremony.