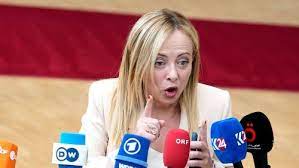 Rome: Italian Prime Minister Georgia Meloni's political party has claimed south Italy will become richer than the European Union's two largest economies.
Brothers of Italy tweeted on Monday that southern Italy's GDP – which measures the total value of goods and services produced within an economy – "will exceed that of France and Germany", posting a photo of the PM reading "masterpiece Meloni".
It cited data from Italy's CGIA of Mestre (Association of Artisans and Small Businesses), without providing any further evidence.
This "historical fact" would "silence the usual owls", it added, referring to people who wish bad misfortune on others.
The Tweet was deleted from Twitter, now called X, on Monday afternoon a few hours after it was posted.
It prompted ridicule from some social media users, with one suggesting they thought the post came from a parody account.
Dogged by deep-seated issues of bad governance, organised crime and poverty, southern Italy's economy has long been less developed than the north, let alone France and Germany.
GDP per capita in the country's south was €18,512 in 2017, according to data from economic analysts CEIC. That year it was far high in both France (€35,442) and Germany (€40,929), though significant regional disparities exist in these countries too.
Italy's north-south economic divide results in sharp inequalities. Industrial activity is concentrated in the north, with people in the south relying on agriculture and tourism, according to the European Union's official network of employment services (EURES).
Last year, unemployment stood at 17.1% and 16.6% in southern regions Campania and Sicily respectively, while in northern Lombardy it was 4.9%, as per EU data.
Economies across Europe are currently struggling amid stubbornly high inflation fuelled by the Ukraine war and climate change.
Meloni has found herself under political pressure following a surprise announcement that the economy shrank by 0.3% in the second quarter of 2023 – defying more upbeat forecasts by most analysts.
The Eurozone as a whole, meanwhile, registered a 0.3% expansion.
Cutting poverty relief – with recipients told by text – and a botched plan to tax banks have also hit the rightwinger hard.
Meloni and her Brothers of Italy party claim their controversial decision to replace an existing income support scheme for low-income households with a more restrictive alternative will boost growth, though this is yet to appear.
Italy's GDP is projected by the European Commission's most recent assessment to still grow 1.2% this year – much higher than 0.7% in France and 0.2% in Germany.
Meloini has previously claimed this prediction proves the "effectiveness" of her right-wing coalition government's economic policies.
The situation can change, however. Plus Brussels' figures pre-date Italy's dismal economic performance between April and June.
Former PM Giuseppe Conte accused his successor of orchestrating an "economic disaster", after August's unexpected announcement the economy contracted.
Italy's finance ministry blamed external factors, such as the European Central Bank's decision to increase interest rates.
"This is not about economic downturns or bad luck," Ubaldo Pagano, a lawmaker from the opposition Democratic party, was quoted by the FT as saying in response to the poor figures.
"These are the results of the blatant inability of this government to manage economic processes and encourage investment."