Pakistan wins 'Best Business Group Award' at China-Eurasia Expo in Urumqi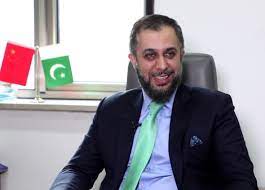 Beijing: Pakistan has won the Best Business Group Award at the China-Eurasia Commodity and Trade Expo recently concluded in Urumqi, the capital city of the Xinjiang Uyghur Autonomous Region of China, Commercial Counselor, Pakistan Embassy Beijing, Ghulam Qadir said on Tuesday.
"During the five-day event, we had a successful mango festival. Our exhibitors showcased different varieties of sweet and juicy mangoes such as Sindhri, Chaunsa, and Anwar Ratol, among others, allowing a large number of visitors to savour the King of fruits", he told APP. The six Pakistani delegation was led by Senator Rana Mehmood Ul Hassan at the expo. Former Federal Minister for Planning, Ahsan Iqbal was also there.
"The Pakistani delegation has not only interaction with the general people but also held important meetings with the ruling administration," he added. The commercial counsellor informed that during the meetings with the Chairman, of Xinjiang Uygur Autonomous Region, Erkin Tuniyaz and the Party Secretary General were very productive. Some very good suggestions were floated from the Pakistani side and they had agreed upon. The Pakistani delegation also held meetings with administrative ministries including the General Administration of Customs of China (GACC), the agriculture department, the commerce department and the foreign affairs department to resolve all related issues. "Now, there are chances that Pakistani mangoes and other fresh fruits will be exported to China through Khunjerab Pass and also different airports of Xinjiang, for example, Urumqi," he added. About the signing of agreements to enhance the import of mangoes, he said that five MOUs were signed, and many business-to-business interactions were made. And the mango exhibitors also went to the wholesale market and made very good connections with the local importers. "Some exhibitors want to stay in Urumqi to acquire warehouses and do more business over there," he added.
Other Pakistani products showcased at the expo included textiles, handicrafts, and more. Additionally, 20 top mango exporters from Multan also participated. The expo covered an exhibition area of 70,000 square meters while seven international organizations participated.
The expo also attracted over 1,300 businesses from 40 countries including Pakistan and regions, including 25 of the world's top 500 companies. A total of 33 trade and investment promotional activities took place during the five-day event.
The (China) Eurasia Commodity and Trade Expo has been held three times since 2015, drawing over 3,700 businesses from 47 countries and regions to participate.