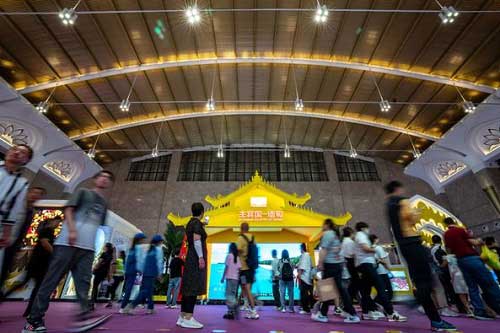 Kunming: Malik Hamza, a Pakistani exhibitor, showcased his exquisite brass handicrafts to visitors at the seventh China-South Asia Expo. To his joy, he found out that a potential customer was referred to him by a satisfied previous client.
"The art craft is handmade in Pakistan, requiring approximately one week to complete each piece," Hamza said.
The five-day expo, which kicked off on Aug. 16 and ended on Aug. 20 in Kunming, the capital of southwest China's Yunnan Province, attracted over 30,000 exhibitors as well as representatives and guests from 85 countries and regions and international organizations, China's state-run Xinhua reported. At a booth showcasing Pakistani jade in the South Asia Pavilion, Khan Muhammad Nasir, a Pakistani representative, engaged in lively discussions with Chinese visitors about product variations and distinctive features.
To enhance the presentation of his offerings, Muhammad Nasir acquired the services of a Chinese translator to assist at the booth. "The morning has brought good business, and we anticipate even more visitors over the weekend," Muhammad Nasir said. He also mentioned the convenience of logistics, explaining that for visitors who are interested in products that are not easy to carry, the shop can readily pack such products and deliver them to desired locations. On the other side of the South Asia Pavilion, in front of the booth of Sri Lankan jeweller Mohamed Rikas, customers frequently approached to inquire about products.
"Rest assured about the quality, and we're open to discussing the price," Rikas said. A familiar face at the event, Rikas brought a stunning array of jewellery from his Sri Lankan store to this year's expo. He aimed to connect with his Chinese clients and continue growing his business by presenting some of the best-quality pieces from his collection. Rikas was a participant at the first China-South Asia Expo in 2013 and that was the first time he brought jewelry to China. Rikas quickly recognized the promising business prospects the country offered and has been a consistent participant, taking part in this expo every year since its inception.
Over the years, the expo has seen its exhibition space triple from 51,100 square meters to 150,000 square meters, and the number of participating countries, regions and international organizations more than double from 42 to 85. A total of 338 projects with a combined investment value of 404 billion yuan (about 55.5 billion U.S. dollars) were inked at this year's expo. "With each visit, I have new gains and forge connections with fresh clients," Rikas said, adding that he has successfully cultivated a client base of over 10 Chinese jewellers through these endeavours.