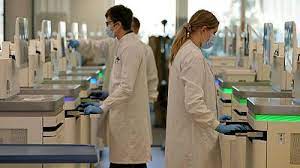 Brussels: The EU Digital Services Act, which comes into force this week, is leading to big changes in how Internet giants operate in Europe.
The European Union's Digital Services Act (DSA) is coming into force this week – and it's going to affect some of the world's biggest tech and social media giants, including Google, Facebook, and TikTok.
It's a milestone moment in regulating Internet giants and is designed to keep users safe online and stop the spread of harmful content that's either illegal or violates a platform's terms of service.
It also looks to protect Europeans' fundamental rights like privacy and free speech.
The EU has long been a global leader in cracking down on tech giants, and these giants must start following the rules of the DSA from Friday. Failure to comply could result in billions of euros in fines.
So far, 19 platforms are affected, including eight social media platforms: Facebook, TikTok, Twitter, YouTube, Instagram, LinkedIn, Pinterest, and Snapchat.
There are also five online marketplaces impacted: Amazon, Booking.com, China's Alibaba AliExpress, and Germany's Zalando.
Mobile app stores Google Play and Apple's App Store are subject to the new rules, as are Google's Search and Microsoft's Bing search engine.
The EU's list is based on how many users a platform has. Those with 45 million (10 per cent of the EU's population) or more will face the DSA's highest level of regulation.
Brussels insiders, however, have pointed to some notable omissions from the EU's list, such as eBay, Airbnb, Netflix and PornHub.
Any business providing digital services to Europeans will eventually have to comply with the DSA. They will face fewer obligations than the biggest platforms, however, and have another six months before they must fall in line.
Citing uncertainty over the new rules, Meta Platforms has held off launching its Twitter rival, Threads, in the EU.
Platforms have started rolling out new ways for European users to flag illegal online content and dodgy products, which companies will be obligated to take down quickly and objectively.
Amazon opened a new channel for reporting suspected illegal products and is providing more information about third-party merchants.
TikTok gave users an "additional reporting option" for content, including advertising, that they believe is illegal. Categories such as hate speech and harassment, suicide and self-harm, misinformation or frauds and scams, will help them pinpoint the problem.
Then, a "new dedicated team of moderators and legal specialists" will determine whether flagged content either violates its policies or is unlawful and should be taken down, according to the app from Chinese parent company ByteDance.
TikTok says the reason for a takedown will be explained to the person who posted the material and the one who flagged it, and decisions can be appealed.
TikTok users can turn off systems that recommend videos based on what a user has previously viewed. Such systems have been blamed for leading social media users to increasingly extreme posts. If personalised recommendations are turned off, TikTok's feeds will instead suggest videos to European users based on what's popular in their area and around the world.
The DSA prohibits targeting vulnerable categories of people, including children, with ads.
Snapchat said advertisers won't be able to use personalisation and optimisation tools for teens in the EU and UK. Snapchat users who are 18 and older meanwhile would get more transparency and control over ads they see, including "details and insight" on why they're shown specific ads.
TikTok made similar changes, stopping users 13 to 17 from getting personalised ads "based on their activities on or off TikTok".
Zalando, a German online fashion retailer, has filed a legal challenge over its inclusion on the DSA's list of the largest online platforms, arguing that it's being treated unfairly.
Nevertheless, Zalando is launching content flagging systems for its website even though there's little risk of illegal material showing up among its highly curated collection of clothes, bags and shoes.
The company has supported the DSA, said Aurelie Caulier, Zalando's head of public affairs for the EU.
'The time of the Wild West is over,' EU's Věra Jourová warns Elon Musk's Twitter from Davos
"It will bring loads of positive changes" for consumers, she said. But "generally, Zalando doesn't have systemic risk (that other platforms pose). So that's why we don't think we fit in that category".
Companies that don't follow the rules could face fines of up to 6 per cent of their global revenue – which could amount to billions. They could even be banned from the EU for failure to comply.
There won't immediately be fines for individual breaches though. The DSA is instead more intended to give the EU insight into companies' algorithms to see if they have the right processes in place.
EU officials "are concerned with user behaviour on the one hand, like bullying and spreading illegal content, but they're also concerned about the way that platforms work and how they contribute to the negative effects," said Sally Broughton Micova, an associate professor at the University of East Anglia.
That includes looking at how the platforms work with digital advertising systems, which could be used to profile users for harmful material like disinformation, or how their live streaming systems function, which could be used to instantly spread terrorist content, said Broughton Micova, who's also academic co-director at the Centre on Regulation in Europe, a Brussels-based think tank.
Under the rules, the biggest platforms will have to identify and assess potential systemic risks and whether they're doing enough to reduce them. These risk assessments are due by the end of August and then they will be independently audited.