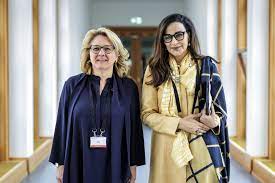 Celina Ali
Islamabad: Speakers at a workshop on climate change held here Wednesday observed that a mass level of cooperation between EU counties and Pakistan can help mitigate climate change effects in the country due to the release of green gases and CO2.
The workshop titled "Emerging Trends and Technologies: Carbon Capture and Storage, Climate Change and Net Zero" was jointly organized by COMSATS University Islamabad (CUI)- Pakistan, at Wah Campus. Cranfield University, UK, and several institutions from Pakistan including NUST, GIKI, NEO, University of Karachi, and Okara University have joined hands as partner institutions with the CUI- Wah Campus for this event.
The Workshop was funded by the British Council, Islamabad under Pak-UK Education Gateway Mobility Partnership for Faculty. The workshop aims to foster academic and research collaborations in the area of carbon capture storage, climate change, clean energy, net zero, and related issues. The workshop benefited the participants from academia, industry, research organizations, government and non-government organizations, contributing towards the attainment of the Sustainable Development Goals (SDGs).
Lecturer/Team Lead from Cranfield University, UK, Dr Syed Adnan welcomed the participants of the workshop in the opening remarks. He shared the introduction, research facilities, and strengths of Cranfield University. He acknowledged the British Council and Higher Education Commission, Pakistan for their support and funding. Manager of Higher Education, British Council- Islamabad, Mubbashir Sheikh highlighted the aims and details of the mobility program launched by the British Government from the year 2018 for the faculty members of Pakistani Universities.
Dr Nasir Ahmad team lead from NUST, Pakistan also highlighted the importance of this mobility grant. The Executive Director, COMSATS, Ambassador, Dr. Mohammad Nafees Zakaria was the chief guest at the inaugural session of the workshop. He expressed that carbon emission is becoming more dangerous for Pakistan as this is a powerful source of climate change and disasters in the region.
In his remarks, the Rector of CUI, Prof. Dr Sajid Qamar, extended his gratitude for organizing this workshop at COMSATS University and organizing it successfully to strengthen the scientific collaboration between the British Council, Higher Education Institutions of Pakistan and the UK. He shared the success of CUI within 25 years and its aim for more internationalization, working in emerging technologies, and always took the lead to bring research and academic programs for the benefit of Pakistan.
He appreciated the efforts of Prof. Dr Muhammad Abid, Director of Campus, for choosing this most emerging topic which needs urgent attention to address the climate change issues in Pakistan. Prof. Dr. Muhammad Abid, T.I., Director of CUI Wah Campus highlighted that the PAK-UK Education Gateway Mobility Partnership for Faculty embodies the spirit of academic exchange, collaboration, and the pursuit of knowledge that transcends geographical boundaries in his opening remarks.
This collaboration between our university and esteemed institutions in the United Kingdom opens up new avenues for faculty members from both ends to explore and engage in cutting-edge research, exchange ideas, and immerse themselves in diverse academic environments. This mobility program will not only broaden the horizons of our faculty but also bring back invaluable experiences from both sides that will enrich our classrooms and research endeavours. The workshop was comprised of a series of invited talks as part of its technical program by renewed academicians and industrial representatives.
The talks were given by Dr Muhammad Khan, Cranfield University, UK, Engr Rashid Mehmood, QATPL Bhikki Sheikhupura, Dr Adnan Zahid, Punjab University, Lahore, Dr Mohammed Uneeb, Power Industry Executive, Mr. Ubaid ur Rehman Zia, SDPI, Islamabad, Dr Mohsin Raza & Dr Athar Hussain, CUI Islamabad, Cmdr (R) Syed Obaidullah Defence and Maritime Analyst and Prof. Dr Muhammad Abid, CUI Wah.
In addition to invited talks, a panel discussion moderated by Prof. Dr. Muhammad Khan, Cranfield University UK was also part of the workshop to chalk out a working paper for collaborative activities between partner organizations. Dr Mohammad Uneeb, Ubaid ur Rehman, Ashfaq Ahmed, Asad Mehmood, Rashid Mehmood, and Dr Nasar Zaheer were the panellists.
The workshop was attended by the academia other than the partner institutions including International Islamic University, Islamabad, Capital University of Science and Technology, Punjab University, Riphah International University, NUTECH, Pak-Austria Fachhochschule: Institute of Applied Sciences and Technology, University of Wah, UET Lahore, Bahria University, CCRD and CUI Campuses. The representatives of scientific and industrial organizations i.e. GCISC, IWMI, HUBCO, QATPL, POL, SIEMENS, CREECO, ASHRAE Pak Chapter, WAPDA, Energy Sector, SDPI, OPML, Pakistan Navy also attended the workshop.