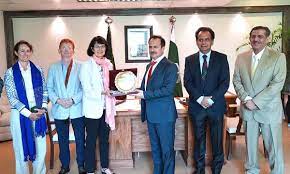 Celina Ali
Islamabad: UK Health Security Agency (UK-SHA) Chief Executive Officer Professor Dame Jenny Harries along with her team called on the Caretaker Federal Health Minister Dr. Nadeem Jan on Wednesday.
The meeting was attended by Secretary Health Iftikhar Ali Shallwani, Additional Secretary Kamran Rehman and DG Health. The focus of the partnership between the M/o NHSR&C and UKHSA is to promote efficient choices, especially in the light of the lessons learned from COVID-19 were discussed.
Mutual learning and capacity-building of the healthcare workforce in Pakistan through sharing and implementation of systems with the support of UKHSA is a priority. Global Health Security Agenda is the top-most priority of the Government of Pakistan. In this regard, Pakistan will soon host a GHSA Summit in which all top leaders and stakeholders from across the world would be invited, said the Minister. With the support of the UKHSA, Integrated Disease Surveillance and Response (IDSR) has been implemented in 134 districts of Pakistan and within the next 2-3 months, it will be implemented in all the districts of the country, the meeting was informed.
The UKHSA is also supporting in the development and implementation of electronic lab systems to strengthen comprehensive surveillance in Pakistan. It was highlighted that UKHSA provided significant support to the provinces in terms of improvement in the technical areas and core capacities as per the JEE recommendations from 2016 to 2023. It was mentioned that the JEE Country Report 2023 is being finalized and the UKHSA has provided significant support in the process of conducting JEE in Pakistan. The recommendations of the said document will help in aligning the health and non-health sectors under the One Health ambit.
It was also shared that an Emergency Operations Center – Center of Excellence is being established at NIH, the goal of which will be to gradually and systematically merge all the country's EOCs into NIH for unified and integrated response to the health emergencies and disasters. It was pointed out that the current project i.e., IDSR is funded in Pakistan until 2024 and the brilliant performance of the country in implementing IDSR will lead to the reassurance of support in other technical areas by the UK Government.
It was highlighted that as soon as the IDSR recurrent system is developed, the entire system would be handed over to the Government of Pakistan. It was added here that the UKHSA is keen to also support in the new technical areas signified by the Government of Pakistan in the future.