British High Commissioner Jane Marriot says terrorists threat to Pakistan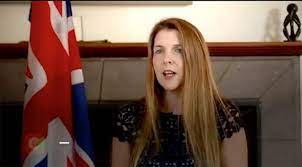 Liaquat Ali
Islamabad: British High Commissioner in Pakistan Jane Marriot said the Afghan Taliban must control the Haqqani Network and other terror organisations, adding that the terrorists were a threat to only Pakistan but also the entire world, if they were not stopped in Afghanistan.
In an interview, Marriot said the entire world was still monitoring the issue of and the developments in Afghanistan, as she expressed her views in detail on different regional and world issues as well as the role Pakistan could play in this regard.
The British diplomat said they had strong reservations over the activities of banned Tehrik-e-Taliban Pakistan (TTP) and other outfits in Afghanistan – the country which was overtaken by the Taliban after the overthrowing Ashraf Ghani government in August 2021.
She was referring to the terror organisations like al Qaeda, IS group and ETIM (East Turkestan Islamic Movement) that are taking refuge in Afghanistan with an aim to carry out attacks across the region.
Marriot also mentioned the issue of women's plight, saying they were disturbed by the fact that the women – the half of the country's population – had been deprived of their rights.
In this regard, she acknowledged the role played by Islamabad and said Pakistan was the most important ally and a frontline state in the war on terror.
The British high commissioner also dwelt upon the Ukraine crisis and the future possibilities. Pakistani construction companies could be a vital part of the reconstruction efforts in the war-ravaged country and they support them on the subject, Marriot said while pointing to the skilled workforce Pakistan has.
Last month, a UN committee report endorsed Islamabad's stance about the TTP by saying that the Afghan Taliban's takeover of Kabul emboldened the terrorist organisation which was aiming at taking control of the former federally administered tribal areas.
It also warned that the TTP might be seeking a merger with al Qaeda to create an umbrella organisation that shelters all militant groups operating in South Asia.
Earlier, Chief of Army Staff Gen Asim Munir had expressed Pakistan's concerns over the presence of terrorists in Afghanistan, while Defence Minister Khawaja Asif lashed out at the Afghan Taliban and said the neighbouring country was neglecting its duties and disregarding the Doha agreement.