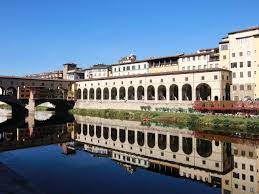 Florence: Italy will have 24-hour armed guards put in place following the $10,800 repair of a historic landmark that German tourists spray painted this week, the country's culture ministry and Florence's Uffizi Gallery said.
Florence's Vasari Corridor — a 460-year-old arched riverside passageway connecting the Uffizi Galleries — was spray-painted with a reference to a third-division Munich soccer club on Wednesday, Florence's mayor's office said.
The city's military police said in a statement that the agency identified the suspects as two German tourists aged 20 and 21, traveling to Italy in a party of 11 students. The police raided the students' Airbnb and found cans of black spray paint and paint-stained clothing, CNN reported.
Italy's Minister of Culture, Gennaro Sangiuliano, said in a statement that it will cost $10,800 to repair the landmark.
The Uffizi Gallery told Insider that 24-hour armed security will be put in place at the museum complex and the area of the Vasari Corridor starting in September.
The gallery told Insider the repairs started on Thursday and would take just a few days.
"Clearly this is not a drunken whim, but a premeditated act," Eike Schmidt, director of the Uffizi Galleries, said in a statement shared with the Associated Press. "Enough with symbolic punishments and imaginative extenuating circumstances. We need the hard fist of the law."
The Vasari Corridor is just the latest Italian monument to be defaced by tourists this summer, coming just months after others vandalized Rome's Colosseum, causing international backlash.
Italy's tourism minister called misbehaving tourists "vandals" earlier this year, saying they had "no respect for our cultural heritage."
Some archaeology experts, however, have argued that people have always defaced monuments like this.