UN body concerned over revocation of Kashmir's special status by India: FO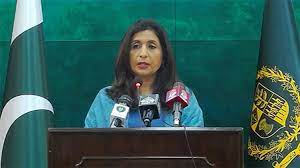 Celina Ali
Islamabad: The United Nations Special Procedures for human rights had again expressed serious concerns about the revocation of Jammu and Kashmir's special status by the Indian occupation forces and imposition of restrictions on freedom of expression, assembly, and association against civil society actors, human rights defenders, political figures and journalists in Indian Illegally Occupied Jammu and Kashmir (IIOJK).
Speaking at a weekly press briefing here on Friday, she said, "These concerns were conveyed in a communication dated 8 August 2023 by the UN Special Rapporteur on the promotion and protection of human rights and fundamental freedoms while countering terrorism; Working Group on Arbitrary Detention; Special Rapporteur on the promotion and protection of the rights of freedom of opinion and expression; Special Rapporteur on the rights to freedom of peaceful assembly and of association; Special Rapporteur on the situation of human rights defenders; and Special Rapporteur on freedom of religion and belief." "The Special Procedures have also highlighted that the framework of India's counter-terrorism laws is ripe for human rights abuse and potential violations of India's obligations under international human rights law, particularly the obligation to respect, protect, and fulfill the rights to equality and non-discrimination, the rights to freedom of expression and freedom of association, and the right to liberty and security of person," she continued.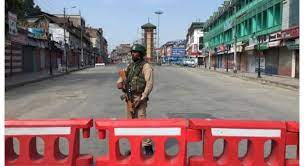 She said, the UN Special Procedures had already issued multiple communications on individual allegations of human rights violations in IIOJK, including arbitrary detention, extrajudicial killings, enforced disappearances, torture, ill treatment, intimidation, and reprise. "The sudden closure of the Jammu and Kashmir State Human Rights Commission, which rendered people in the region with little legal recourse in seeking redressal and accountability for violation of their human rights and fundamental freedoms.
The latest communication by the UN Special Procedures is a comprehensive document, covering multi-faceted human rights abuses in IIOJK, under the cover of counter-terrorism laws. It indicts India on its human rights record and the grave situation in IIOJK.
We urge India to bring an end to its repression of the Kashmiri people so that they are able to exercise their right to self-determination in accordance with the UN Security Council Resolutions," she added. She said a 60-year-old civilian Ghias from Kotli district of Azad Jammu and Kashmir was killed as a result of unprovoked firing of Indian forces on 21 August 2023.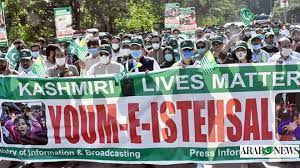 The incident took place in the Nikial Sector of the Line of Control (LoC). This was a direct violation of the 2003 Ceasefire Understanding, reaffirmed in February 2021. The spokesperson said, "We have strongly protested this latest provocation from the Indian side and emphasized the vital importance of maintaining peace along the LoC. Pakistan urges India to conduct an investigation into the incident and to honour the Ceasefire Understanding. The Indian forces must also exercise extreme caution and desist from targeting innocent civilians. "