TIR route between Pakistan and China to revolutionize regional trade connections: Pakistani Minister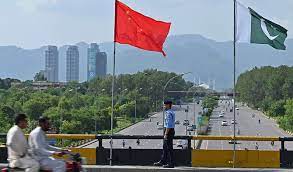 Gwadar Pro
Islamabad: International Road Transport (TIR) route between Pakistan and China will revolutionize trade connections in the region, a Pakistani minister said.
Speaking to Gwadar Pro, Caretaker Minister for Planning, Development, and Special Initiatives Muhammad Sami Saeed maintained that the newly launched route will multiply trade between Pakistan and China besides providing and efficient and safe land route to connect the landlocked Central Asian states.
"This is yet another win-win situation. The cooperation with China is every increasing," he remarked.
The first convoy of cargo trucks is already on its way from China to Pakistan on the new route. Cross-border transportation of goods has for the first time started under the United Nations International Road Transport Convention in collaboration with National Logistics Corporation of Pakistan and CEVA Logistics, a prominent Chinese company.
This important development took place on the occasion of the 10 anniversary of the China-Pakistan Economic Corridor (CPEC) project.
A ceremony was held at Kashgar Yuanfang International Logistics Port Company for the official launch of the TIR service. The ceremony was attended by the representatives of NLC, Kashgar Customs, Municipal Committee officials, CEVA Logistics and Cross-Border E-Commerce Association.
The speakers highlighted the importance of the TIR transport route from Kashgar to Islamabad and shed light on the future plans for transportation of goods under the TIR between the two countries.
Thanks to simplified and coordinated customs procedures at the borders, the cross-border movement of TIR goods will be possible faster and more safely. This will not only reduce time, but also cost. At the end of the ceremony, the first convoy of cargo trucks left for Pakistan.
Minister for Planning, Development, and Special Initiatives Muhammad Sami Saeed said he had already ordered to pace up work on the CPEC projects as Pakistan and China celebrate the 10th anniversary of the gigantic project.
He acknowledged that China had invested billions of dollars in Pakistan which were helpful in boosting the economy of the country.
Saeed said he had visited various projects of CPEC and held meetings with the concerned to complete the projects on time.