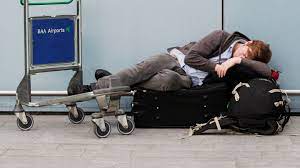 London: Hundreds of flights to and from the UK have been delayed or cancelled after a breakage in the country's air traffic control systems.
The systems are now up and running again but many flights have been affected after the issue began around midday UK time today.
It has caused travel misery for thousands of passengers trying to return home on the UK's last bank holiday of the summer.
NATS, the UK's air traffic controlller, released a statement at 3.15pm UK local time saying: "We have identified and remedied the technical issue affecting our flight planning system this morning. We are now working closely with airlines and airports to manage the flights affected as efficiently as possible. Our engineers will be carefully monitoring the system's performance as we return to normal operations.
At 12.40pm UK local time, UK airlines began announcing there would be delays to flights due to a "network-wide failure of UK air traffic control computer systems."
"This morning's technical issue is affecting our ability to automatically process flight plans. Until our engineers have resolved this, flight plans are being input manually which means we cannot process them at the same volume, hence we have applied traffic flow restrictions. Our technical experts are looking at all possible solutions to rectify this as quickly as possible.
Our priority is ensuring every flight in the UK remains safe and doing everything we can to minimise the impact."
They apologised for the disruption and advised passengers to contact airlines for information on their flights.
It is not yet clear what caused the technical issue.
Passengers have taken to social media to express frustration at the lack of information on when or if their flights will depart.
Although the NATS technical issue is resolved, many planes and crews will now be in the wrong places so there will be ongoing issues with flight schedules.
One user reported being sat on the runway at Budapest airport for a flight to the UK and being told they may be delayed by 12 hours.
Another user posted from Pisa airport in Italy, saying their estimated departure time is 3.30am, a delay of 11 hours.
Before leaving for the airport, check your airline's app, website and social media channels for the latest advice.
You should also check the airport's website departures or arrivals board for information.
Edinburgh airport, in Scotland, has advised passengers "not to come to the airport before checking with their airline on the status of their flight."
For flights within Europe, you are advised not to arrive at the airport more than 2-3 hours before your flight to avoid overcrowding.
Easyjet issued a notice to passengers saying, "We are working with the relevant authorities to understand the impact of this issue and the timescale for normal operations to resume."
They said that for passengers already onboard, flight crew would keep them updated.
For passengers at the airport waiting to board, they advised them to check flight information screens in the terminal and the airline's app and website Flight Tracker.
British Airways said in a statement, "We are working closely with NATS [National Air Traffic Services] to understand the impact of a technical issue that is affecting UK airspace, and will keep our customers up to date with the latest information."