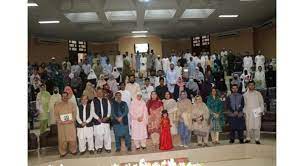 Quetta: Jan Achakzai, the Caretaker Information Minister of Balochistan, has expressed gratitude to China's effort of offering 1200 scholarships to students in Gwadar. He emphasized that Balochistan served as a global gateway and praised China's dedication to investing in the China-Pakistan Economic Corridor (CPEC) and collaborating with Balochistan in education and various sectors.
In a statement issued here, Achakzai expressed confidence that the strong bilateral ties between China and Pakistan would be further enhanced, with Balochistan playing a pivotal role.
He also thanked the Chinese Embassy for their assistance in Balochistan's projects, considering the scholarship program a part of China's broader commitment to the region.
The scholarship initiative, he noted was a vital move in strengthening China-Balochistan relations, offers students a chance to study in China and gain valuable skills, ultimately contributing to a more prosperous and interconnected Balochistan in the future.
Achakzai maintained that the CPEC, described as a significant economic endeavor, will link China's Xinjiang province to Pakistan's Gwadar port, fostering economic growth and local employment in Balochistan.