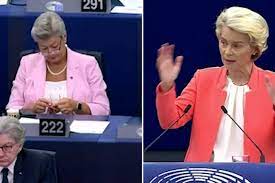 Brussels: European Commissioner for Home Affairs Ylva Johansson was filmed knitting during the annual State of the Union address by European Commission President Ursula von der Leyen on Wednesday, making headlines.
Von der Leyen was delivering the speech at the beginning of the new legislative year, where the executive body of the EU describes its actions and priorities for the coming year. She gave the address during a European Parliament plenary session in Strasbourg, France.
Although Johansson's love of knitting is nothing new, such action during a crucial speech triggered speculation about the level of engagement among EU commissioners.
Nigel Farage, a British broadcaster and former member of the European Parliament, commented on the incident on X, formerly known as Twitter.
"Even Ursula von der Leyen's own EU Commissioners are bored to death with what she has to say!" he said.
During her address, von der Leyen discussed several topics including Ukraine, climate change, China, irregular migration and EU expansion.