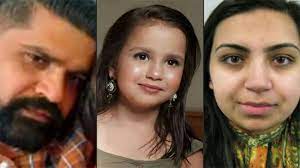 London: The father, stepmother and uncle of 10-year-old Sara Sharif, who was found dead at her home in a Surrey village last month, have been arrested on suspicion of murder following their return to the UK from Pakistan.
Sara's father, Urfan Sharif, 41, her stepmother, Beinash Batool, 29, and her uncle, Faisal Malik, 28, left Sialkot airport in Pakistan on Wednesday morning after negotiations with police and British authorities, sources told a foreign media outlet. They are understood to have landed at Gatwick airport on Wednesday evening.
Records suggest that the fugitives flew business class on the last leg of their journey back from Dubai. The logistics are understood to have been handled by the British High Commission.
Det Supt Mark Chapman, of Surrey police said three people were arrested on suspicion of murder after disembarking from a flight from Dubai at Gatwick Airport on Wednesday evening. He said: "Two men, aged 41 years and 28 years, and a woman, aged 29 years, were arrested on suspicion of murder after disembarking a flight from Dubai. They are currently in custody and will be interviewed in due course.
"Sara's mother has been informed of this latest update and is being supported by specialist officers. Our thoughts remain with her and those affected by Sara's death at this very difficult time.
"This has been an extremely fast-moving, challenging and complex inquiry and we remain absolutely committed to conducting a thorough investigation into Sara's death. We will not be commenting any further at this point and will provide further updates as and when we are able to."
Earlier, a Pakistan police source said: "All three fled to the UK Wednesday morning after successful negotiations with the family."
The trio arrived in Pakistan last month along with Urfan Sharif's five children. Shortly afterwards, Sharif called the emergency services in the UK to report that his daughter was dead at his home in Horsell, near Woking, on Aug 10.
The three had disappeared after their arrival in Pakistan and became the focus of an international police search.
It was assumed that Urfan Sharif's five children were with him, but it emerged on Monday that they had been staying with their grandfather Muhammad Sharif at his home in Jhelum. They were found after a police raid and have been taken into care in Pakistan.
The foreign media outlet reported on Sunday that Muhammad Sharif was negotiating with local politicians and police for the fugitives to come out of hiding and be handed over to the British authorities. They were said to be frightened of ill treatment if they were dealt with by police in Pakistan.
A Jhelum police official said they felt "relieved" to have concluded a "really complicated case".
Urfan Sharif's brothers Imran Sharif and Zareef Sharif are still in custody in Pakistan, along with his brother-in-law Usman Chaudhary. It is understood they were held as a tactic to find their relatives and are likely to be released shortly.
"The cases against the other family members who are in police custody will be wound up slowly in the coming days," family lawyer Raja Haq Nawaz said.
A family law and international expert, Osama Malik, said: "A month-long saga ended with the departure of those wanted for questioning in the Sara death case. It seems that the negotiations by local politicians from Jhelum and some backdoor diplomatic assurances from the high commission has resulted in the fugitives surrendering themselves to the local police and 'voluntarily' and somewhat secretly returning to the UK to answer question related to the death of Sara."
"The children have been handed to the Child Welfare Bureau by the court, so a court order will be required to remove them from the country," Malik added.