Chrissy Teigen, John Legend say 'Yes' again in Italy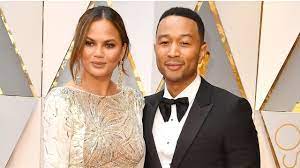 Rome: Chrissy Teigen and John Legend have remarried in Italy by exchanging their vows. They returned to the location of their original wedding and recommitted.
Chrissy and John dressed to the nines and rekindled their vows on Lake Como, where they married ten years ago.
They brought a slew of kids this time… Luna, Miles, Esti, and Wren, who is just 3 months old.
Even the kids dressed up, including Miles, who donned a miniature facsimile of his father's tux.
They've been together for far longer than they've been married. John and Chrissy met on the set of one of John's music videos in 2006, 17 years ago.
For the couple's special event, they have kept the guest list extremely impressive yet uncertain whether which celebrity couples or celebrities are invited.
Although, the weekend-long celebrations were designed to keep guests entertained, as they kicked-off on Friday with a cocktail party with food and games.
Even while lodging in the area is reported to cost around $6,000 per night, it won't likely be an issue for the high-profile attendees.
Teigen and Legend have been married for ten years, during which time they have navigated a variety of life's ups and downs, including the happiness of having children and the heartache of losing a son, as well as social media issues and other things.
A romantic weekend in Italy seems like the ideal way to commemorate their ongoing love, especially given couple's shared past.