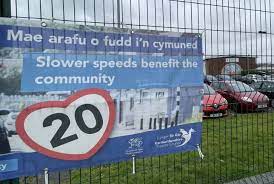 London: Wales has become the first country in the UK to reduce speed limits in built-up areas from 30mph to 20mph in Wales from Sunday.
Welsh ministers said a 20mph (32km/h) limit would reduce deaths and noise and encourage people to walk or cycle but it has caused controversy with some drivers.
The United Nations, environmental and road safety groups have backed the move but opposing politicians declared it a "war on motorists".
Wales' first minister said it would "keep people from losing their lives".
"It's going to take you a minute longer to make your journey, and we will save 10 people's lives in Wales every year as a result of that one minute contribution – it doesn't seem an unfair bargain," said Mark Drakeford.
The law will change the speed limit on about 35% of Welsh roads where lamp-posts are no more than 200 yards (183m) apart.
The Welsh government said the £32.5m cost to rollout the new nationwide speed limit was "outweighed" by reduced impact on the NHS and emergency services, which one study said could save £92m a year.
But a Welsh government-commissioned consultation found more were against the speed limit than in support of it.
One of the Labour-led government's own documents said longer journeys could cause a "substantial" economic disadvantage.
Its "central estimate" was an economic hit of £4.5bn over 30 years, although ministers acknowledged there was "significant uncertainty" over the figure and "active professional debate" about how it was calculated.
The UK government's House of Commons leader, Penny Mordaunt, called the new 20mph default limit "insane" and said it was "punishing" motorists.
The Welsh Conservatives said they were in favour of a 20mph limit outside schools, hospitals and care homes – but called the blanket rollout "disastrous, frankly ludicrous and a war on motorists".
Welsh ministers said impact on journey time would be "small", with drivers taking less than one minute extra on average per trip.
"I remember when the breathalyser was introduced and how many people appeared to believe that it was quite OK to spend the night in the pub and then to drive," said Mr Drakeford.
"We'd never think of going back to that now. This will take time for people to get used to.
"Once it's bedded in I think people will look back and ask themselves why it was we were prepared to tolerate traffic going at excessive speeds in urban areas."
Mr Drakeford asked employers to take into account the new limit for workers in the social care and delivery industries to do their job "in a way that allows them to do it within the law".
The UN has called for 20mph or 30 km/h (18.6mph) speed limits to be the norm for cities, towns and villages worldwide, while the Royal Society for the Prevention of Accidents (Rospa) has encouraged wider use of 20mph limits as a "considerably less expensive" means of traffic calming.
A group of Welsh and UK-wide organisations – like Friends of the Earth Cymru, Action for Children and Sustrans Cymru – have supported the "huge contribution towards fairer streets and more liveable communities".
The European Transport Safety Council (ETSC) said Wales' lower speed limit was "a win-win", adding: "Wales deserves a massive pat on the back for being one of the first countries in the world to make this change on a national level."
"Some like to talk about lower urban speed limits as part of a so-called 'war on the motorist' but that's obviously nonsense," said Dudley Curtis of the ETSC.
"In fact, what has happened over the last few decades is that cars have come to dominate our villages, towns and cities at the expense of other safer and healthier modes of transport."
The Welsh government said the 20mph national speed limit would reduce road collisions, road deaths, noise and pollution while encouraging more people to walk or cycle.
Latest official figures show more people were killed or seriously injured in 30mph zones in Wales last year than at any other speed limit.