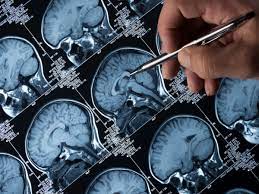 London: On a fine spring day two years ago, Shay Emerton was in good spirits playing for an old pupils' school football team. There was just 10 minutes of the game to play, when his life changed for ever.
Emerton, 26, said: "The goalie kicked to clear the ball and it hit me on the side of the head. I went dizzy and as I went to run off, my legs buckled beneath me. I thought, 'I am in trouble here' and then blacked out."
The University of Bath biochemistry graduate had a seizure and went into respiratory arrest. An anaesthetist playing for the opposing team in the match in April 2021 gave Emerton mouth-to-mouth resuscitation before an ambulance arrived and took him to Watford general hospital.
Emerton underwent scans at the hospital and while recovering was given some shattering news: he was suffering from a mass on the brain, later diagnosed at the National Hospital for Neurology and Neurosurgery in central London as a grade 2 glioma, a slow-growing and incurable brain tumour. "I was told they would do the best they could with surgery," he said.
He had surgery in July 2021, removing 98% of the tumour in the left-hand side of his brain. He was temporarily paralysed on his right-hand side but gradually recovered.
Doctors typically adopt a "watch and wait" strategy for low-grade gliomas after initial treatment, with limited drug options. Targeted therapies for brain tumours are particularly challenging because of the difficulty of getting through the blood-brain barrier, which protects against pathogens.
Emerton, who lives in St Albans, Hertfordshire, and works as a landscape gardener, started researching treatments and discovered a trial into a new drug, Vorasidenib, which its makers hoped could slow the growth of many low-grade gliomas.
But his referral to the Royal Marsden hospital in central London was too late. The Indigo trial, involving 331 patients from 10 countries, was halted after showing a clear benefit for the Vorasidenib group. All participants in the placebo group were then offered access to the drug.
The median time until the disease worsened or there was death from any cause – known as progression-free survival – was 27.7 months for people in the Vorasidenib group versus 11.1 months for those in the placebo group, the research found.
It was promising news, but despite the success of the trial, Emerton was told he could not have the drug as it was not available under the early access to medicines scheme (Eams).
Emerton, who has six-monthly scans to monitor his tumour, which is currently stable, said: "It's so frustrating that there is something out there which could potentially help me to live a longer life and I can't access it. They stopped the clinical trial because it was so successful."
His mother, Dawn, 62, is now campaigning for wider access to the drug for brain tumour patients who are suitable. Daisy Cooper, the Liberal Democrat spokesperson for health and social care, asked a question in parliament in early September about making the drug available to suitable brain tumour patients. Will Quince, the health minister, said the Medicines and Healthcare products Regulatory Agency (MHRA) would consider any application.
Dawn said: "People say you can wait until the drug is approved, but these patients do not have time. The tumour can progress at any stage." She has written to the drug's manufacturer, Servier, urging the company to make it available under Eams.