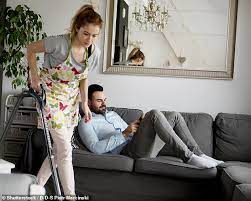 London: A clear majority of Britons agree household chores should be shared – but women generally do them, an annual survey of public views suggests.
More than three-quarters of respondents to the British Social Attitudes Survey said domestic labour should be split.
Yet two-thirds said women do more than their fair share of washing and ironing. And most said women still do most of the cleaning and cooking.
But ideas on gender roles have changed considerably since the mid-1980s.
Back then, 48% agreed with the statement "a man's job is to earn money and a woman's to look after the home."
In this year's survey, just 9% agreed.
But 63% of women said they did more than their fair share of the housework.
And just 22% of men said they shouldered most of the burden, with 32% admitting they do less than they should.
Social scientists refer to the phenomenon as "second shift", with women shouldering most domestic and childcare duties as well as participating in the labour market.
In 1983, when the BSA survey began, the female employment rate for 16-64-year-olds was 54%.
By 2023, this had risen to 72%. And the participation of mothers in the labour market has never been higher.
In contrast, 78% of working-age men had a paid job in 1983 – and now, it is 79%.
In 1989, about half of of respondents said both the man and woman should contribute to the household income.
Now, it is 70% – with support among men and women increasing at a similar rate.
The continued unequal division of labour between men and women is reinforced by both workplace norms and public policy, the survey says
"There remains a chasm between attitudes and practice, with women continuing to take on more domestic labour relative to men," the authors say.
"Despite some progress, the UK is therefore a long way from seeing a complete gender-role revolution in the household."
And the survey – based on 6,638 interviews with adults between September and October last year – suggests Britain has yet to tackle this "final frontier" of gender equality.