Punjab endeavouring to benefit from Chinese technology, expertise: CM Naqvi
Lahore: Punjab Caretaker Chief Minister Mohsin Naqvi has said that Punjab would harness technology and expertise from China across all sectors.
Interacting with media outside the Hazrat Mian Mir shrine, Naqvi emphasised that during his visit to China along with a 15-member delegation comprising provincial ministers and high-ranking officials the discussions centered only on technology.
The CM said they planned to utilise Chinese technology and expertise in the various fields, adding that they also secured cooperation from the Chinese team to combat smog.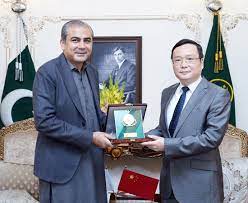 In reply to a query, Naqvi said, "A strict crackdown is ongoing against hoarding, and daily actions are being taken. However, people are still not returning to the markets."
Earlier, the caretaker CM attended a ceremony held to mark the beginning of the 400th Urs celebrations of the saint Hazrat Mian Mir, and laid a wreath at the shrine.
He also laid a foundation stone for a 'langar khana' (free kitchen) to be established with the cooperation of the Medina Foundation. Additionally, the CM inaugurated the Library and Interfaith Dialogue Table.