Sanjrani commends China for lifting 800 mln people out of poverty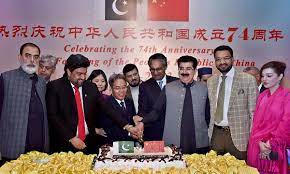 Celina Ali
Islamabad: Acknowledging China's remarkable economic achievements Chairman Senate Muhammad Sadiq Sanjrani Thursday commended China for lifting around 800 million people out of poverty—a feat unparalleled in history. Addressing a reception arranged to celebrate the 74th Founding Anniversary of the People's Republic of China, the chairman noted President Xi Jinping's transformative vision, as outlined in China's recent White Paper, emphasizing an innovative and profound approach to international relations and economic globalization. The event witnessed the presence of Jiang Zaidong, the newly-appointed Ambassador of the People's Republic of China to Pakistan, Parliamentarians, Distinguished Guests, and members of the community.
The Chairman extended heartfelt congratulations to President Xi Jinping, the Communist Party of China (CPC), and the people of China on this significant milestone. He highlighted the enduring friendship between Pakistan and China, emphasizing the depth of mutual trust, respect, and shared vision for a brighter future. Expressing gratitude for the warm welcome received, Chairman Senate welcomed Jiang Zaidong to Pakistan. He conveyed the assurance of complete support and cooperation in diplomatic and bilateral engagements during Ambassador Jiang Zaidong's tenure. The Chairman reflected on the historical ties between Pakistan and China, emphasizing the strength of their bond that has grown over the years. He underscored the importance of the China-Pakistan Economic Corridor (CPEC) as a testament to their trust and brotherhood. Chairman Senate expressed confidence that CPEC would symbolize their joint commitment to regional prosperity. Chairman Senate expressed Pakistan's commitment to deepening ties with China based on mutual respect and shared
aspirations. He reiterated his gratitude for China's unwavering support during challenging times, including natural disasters and the global health crisis posed by COVID-19. As a pledge of commitment, the Chairman Senate emphasized the role of parliamentary diplomacy in fostering deeper ties, collaboration, and mutual understanding between the two nations. He concluded by reaffirming Pakistan's unwavering dedication to the unique bond with China, envisioning a future filled with success, growth, and unparalleled friendship.