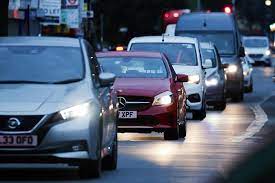 London: Transport Secretary Mark Harper has set out plans to protect drivers from over-zealous traffic enforcement, as part of a long-term government plan to back drivers.
With 50 million people holding a driving licence in Great Britain and more than 40 million licensed vehicles in the UK, the government's new plan will support the majority who drive, by keeping motoring costs under control and ensure people have the freedom to drive as they need to in their daily lives.
The measures include reviewing guidance on 20mph speed limits in England to prevent their blanket use in areas where it's not appropriate and amending guidance on low traffic neighbourhoods to focus on local consent.
As part of the ongoing review into low traffic neighbourhoods, the government will also consider measures for existing anti-driver policies that did not secure local consent. The plans also aim to stop councils implementing so called '15-minute cities', by consulting on ways to prevent schemes which aggressively restrict where people can drive.
Drivers across the country will also soon be able to benefit from new technology to simplify parking payments. The national parking platform pilot will be rolled out nationwide so that drivers can use an app of their choice to pay instead of downloading multiple apps.
In the continued drive to tackle potholes, the government will support councils to introduce more lane rental schemes, where utility companies are required to pay to dig up the busiest roads at peak times. Under the proposals, at least half of the extra money raised from these fees will go directly towards repairing road surfaces.
To further clamp down on overrunning street works, the government will consult on extending fines for repairs which run into weekends and increasing current levels of fixed penalty notices.
Prime Minister Rishi Sunak said: "For too long politicians have focused on the short-term decisions with little regard for the long term impact on hardworking families.
We've seen this consistently with people's freedoms on transport. The clamp down on drivers is an attack on the day to day lives of most people across the UK who rely on cars to get to work or see their families.
This week the UK government will set out a long-term plan to back drivers, slamming the brakes on anti-car measures across England. We are taking the necessary decision to back the motorists who keep our country moving."
Transport Secretary Mark Harper said: "Too often the private car is vilified when it has been one of the most powerful forces for personal freedom and economic growth. That's why the government is taking the long-term, necessary decision to back the motorists who keep our country moving.
We're introducing a plan to ensure drivers can enjoy smoother journeys, park more easily and no longer face unfair and oppressive traffic enforcement measures.
Our plan will sit alongside our continued investment in public transport and active travel as part of a package of measures designed to help people travel in the best way that works for them."
A call for evidence will be launched on options to restrict the ability of local authorities to generate revenue surpluses from traffic offences and over-zealous traffic enforcement, such as yellow-box junctions.
To make life easier for drivers and help traffic flow better, the Department for Transport will strengthen guidance to make sure bus lanes only operate when necessary and a consultation will be launched on motorcycles using bus lanes. Further measures and the full plan will be published in the coming days.
The measures follow the Prime Minister's new approach to net zero announced last week, which committed to ending the sale of new petrol and diesel vehicles by 2035, while supporting people who rely on their cars in their daily lives. The long-term plan to back drivers will protect people who rely on their cars from anti-driver policies.
The plans also follow the government's support for drivers by cutting the fuel duty rate by 5p per litre since March 2022, saving the average driver around £100 a year. This is in addition to £5 billion government investment since 2020 to resurface local roads, and new rules to clamp down on utility companies leaving potholes behind after street works.