Xi extends condolences to Pakistani president over bomb attacks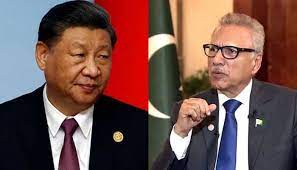 Beijing: Chinese President Xi Jinping on Saturday sent a message of condolence to Pakistani President Arif Alvi over a series of bomb attacks that rocked Pakistan.
In his message, Xi said that he was shocked to learn of the attacks which caused heavy casualties.
On behalf of the Chinese government and people, Xi mourned deeply for the fatal victims and conveyed sincere sympathies to the bereaved families and those injured.
Xi emphasized that China resolutely opposes all forms of terrorism and will continue to firmly support Pakistan's endeavors to maintain national stability and security.
On the same day, Chinese Premier Li Qiang also extended condolences to Pakistan's caretaker Prime Minister Anwar-ul-Haq Kakar.