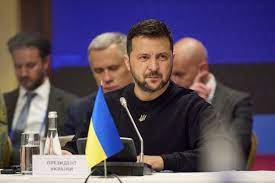 Brussels: The foreign ministers of all 27 European Union member states are meeting in war-torn Ukraine in their first-ever meeting outside the bloc's borders, displaying support for Kyiv.
The unannounced meeting takes place as the Ukrainian government pushes to join the EU in the future, amid Russia's full-scale invasion of Ukraine, which is in its 20th month.
"I am convening today the EU Foreign Ministers in Kyiv, for the first-ever meeting of all 27 Member States outside the EU," the EU's foreign policy chief Josep Borrell said in a post on social media platform X on Monday.
"Ukraine's future lies within the EU," he added.
Top officials from EU capitals have often visited Kyiv since the beginning of the war, but this is the first time an official EU summit is being held in the Ukrainian capital.
Ukrainian Foreign Minister Dmytro Kuleba hailed the ministers' meeting "within future borders" of the EU in a post on social media platform X.
"Glad to welcome EU foreign ministers at the historic meeting in Ukraine," he said, adding: "For the first time in history, outside current EU borders. But also within its future borders."
French Foreign Minister Catherine Colonna said the meeting was a signal to Moscow of the bloc's determination to support Ukraine over the long term.
"It is a demonstration of our resolute and lasting support for Ukraine, until it can win. It is also a message to Russia that it should not count on our weariness. We will be there for a long time to come," she told reporters in Kyiv.
The EU member states, along with the United Kingdom and the United States, have provided massive military and financial support to Ukraine, enabling it to stand up to the Russian offensive.
Al Jazeera's Zein Basravi, reporting from the Ukrainian city of Lubny, said the meeting symbolises a crucial moment in EU-Ukraine relations.
"The Russian war in Ukraine is an existential threat not just to Ukraine, but to the European project," he said.
"The majority of EU countries speak in one voice when it comes to supporting Ukraine in this war," Basravi said.