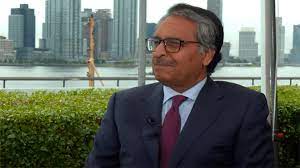 Celina Ali
Islamabad: Foreign Minister Jalil Abbas Jilani is visiting China to participate in the 3rd Trans-Himalaya Forum for International Cooperation, being held in Nyingchi, Tibet Autonomous Region, on October 4-5.
The foreign minister is undertaking the visit at the special invitation of the Foreign Minister of China, Wang Yi, the Foreign Office said Monday. The Trans-Himalaya Forum was initiated in 2018 to deepen practical cooperation among regional countries on diverse subjects including geographical connectivity, environmental protection, ecological preservation, and enhancing cultural linkages.
The last in-person meeting of the Forum was held in 2019. The theme of this year's Forum is "Ecological Civilization and Environmental Protection." The Foreign Office in a statement said during his stay in Tibet, FM Jilani will address the opening ceremony of the Trans-Himalaya Forum. On the sidelines, the foreign minister will meet with several regional dignitaries including the Deputy Prime Minister of Mongolia, the Foreign Minister of China the and Interim Foreign Minister of Afghanistan.