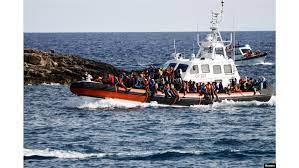 Athens: As is the case in Italy, Greece is facing new wave of illegal immigration, and as it boosts measures to contain the influx, the government is now pressing its European Union partners to join forces in deporting migrants back to their countries. Greece is expected to raise the proposal at a meeting of national leaders in Spain this week but mustering an agreement among the EU's 27 members may be difficult.
Greek migration minister Dimitris Keridis revealed the proposal as the government in Athens grows "wary and concerned," as he put it, of a new migration crisis.
Concerns have mounted as the number of illegal immigrants arriving in Greece has risen to 31,000 this year, up from 18,000 for all of 2022.
This comes nearly a decade after Europe's poorest state saw more than a million, mainly Syrian, refugees stream through its frontiers and into the heart of Europe, in the biggest migratory push to the West since World War II.
While nearly 680,000 migrants have been legalized since 2021, Keridis said about 60,000 migrants remain in the country illegally. He said their numbers continue to grow because countries such as Pakistan and Iran refuse to accept their nationals back in forced deportations.
He said the EU as a whole has to demand that these countries take back these illegal migrants, or else face sanctions.
Keridis did not say what such punitive measures may include, but he said it was imperative for what he called an EU deportation mechanism to be set up. Failure to do so, he said, would effectively allow human traffickers already pushing countless droves of illegal migrants to the West to take the EU and its migration policies "hostage," as he put it.
It would also endanger Europe's bid to help and safeguard refugees in need, Keridis said.
It is imperative, the minister said, for refugees to be distinguished from illegal migrants because if all of them end up staying, it will create such a crisis that it could ultimately lead to Europe's closure of all its borders, thus failing to protect true refugees escape wars and persecution.
Like Greece, Italy and Spain have been facing rising illegal migration in recent months. And while Europe's already restrictive approach to immigration has come under human rights groups' fire, the EU agreed Wednesday to adopt a new list of what it called "crisis regulations measures," to deal with periods of exceptionally high migrant arrivals.
Immigration, though, has Europe largely divided, and ahead of EU elections next year many right-wing parties in countries such as Italy, Hungary, Poland and Germany have made the issue central to their polices, demanding more restrictions.
Whether the EU will adopt Greece's call for sanctions remains unclear.
Until then, Keridis said, the Greek government will not remain idle.
A recent thawing of tense relations between long-time foes Greece and Turkey has both sides now working together on a deal that would revive and revise a landmark agreement hatched at the height of Europe's 2016 migration crisis. The deal aims to crack down on human smugglers and contain illegal flows of migration from Turkey's massive pool of 4 million refugees and migrants.
He said, the bigger issue at stake for Greece is not to lose this momentum and drive for concrete results, but also not to allow Italy to monopolize all the focus on illegal migration. A decade after two shipwrecks off Italy's Lapendusa took the lives of hundreds of migrants, similar tragedies have followed, with the region once again at the center of a new European refugee crisis. If Italy manages to its block paths of migrant entries to Europe, he said, we will see an explosion of entries to Greece.
Greece and Turkey are aiming to have a separate migration deal ready by early December.