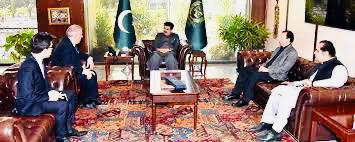 Celina Ali
Islamabad: Ambassador Andreas Ferrarese of Italy met with Chairman Senate Muhammad Sadiq Sanjrani at the Parliament House in Islamabad on Friday.
The discussion revolved around shared interests, including regional dynamics and energy matters, as per a statement from the Senate Secretariat.
Chairman Senate emphasized the friendly relations between the two nations and called for strengthening bilateral ties.
He advocated for diversifying energy sources, emphasizing the untapped potential of solar and wind energy in Pakistan. He also highlighted the expertise of Italian energy professionals, offering collaboration to explore alternative electricity generation in Pakistan.
Considering the increasing impacts of climate change, the chairman stressed the global need to transition to clean energy generation. The meeting concluded with a shared commitment to boost trade and economic ties between Italy and Pakistan.
Furthermore, the chairman invited Italian enterprises to explore investment opportunities in Pakistan, particularly in the mineral sector, especially in Balochistan, which could be favorable for Italian investors.
Pakistan places great importance on its relationship with Italy and aims to enhance cooperation across various domains, with a focus on economic collaboration.
The meeting ended with a mutual agreement to strengthen parliamentary relations, with the goal of fostering a deeper and more robust bilateral engagement.