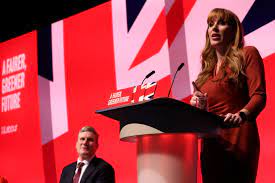 London: Britain's opposition Labour Party gathers in northern England this weekend for its annual conference seeking to cement its huge lead in opinion polls as it boasts of record business interest in its convention.
Polls put Labour about 20 points ahead of Prime Minister Rishi Sunak's ruling Conservatives with an election expected next year. On Friday it won a bigger-than-expected victory in an election for a parliamentary seat in Scotland, a result heralded by leader Keir Starmer as "seismic".
However, despite its commanding position in the polls, commentators say the lead is potentially fragile and Sunak, who became the Conservatives' fifth prime minister in six years last October, could mount a comeback.
It is not just in the polls Labour has been doing well, but also its fundraising, attracting millions in donations as some executives and investors switch allegiance from Sunak's "Tory" party.
The Conservatives have traditionally positioned themselves as the party of business, but after the turmoil which saw former Prime Minister Liz Truss ousted after 44 days and policy U-turns, Labour has sought to woo companies, promising stability and the conditions needed to grow the economy.
The party said its exhibition and conference fringe were its most successful in terms of income and increase in numbers, while tickets to its Business Forum sold out in record time.
"The Tories' legacy is national decline – a nation levelled down and starved of hope," said Labour's deputy leader Angela Rayner, who will officially open the conference on Sunday.
"While the Tories have stolen Britain's future, it's Labour that will give it back with our plan to make working people better off by securing growth for all people and in all places."
At his own party's conference last week, Sunak sought to portray himself as a tough decision maker and an agent of change, seeking to distance himself from decisions made by his predecessors during the Conservatives 13 years in power.
"I'm just looking to the future. The choice of the next election is a choice between Keir Starmer and me," he told LBC radio on Friday. "It's not about what happened in the past. It's about who's going to change this country for the better in the future."