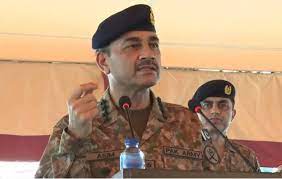 Gwadar Pro
Karachi: Chief of Army Staff (COAS) General Syed Asim Munir received briefing on the security of the Chinese nationals working in projects related to the China-Pakistan Economic Corridor (CPEC) as well as non-CPEC and private ventures.
On the occasion, the Army Chief, expressed his commitment to combat illegal activities in Pakistan. He emphasized that law enforcement agencies and various government departments would vigorously pursue efforts to prevent the unauthorized exploitation of resources and curb economic losses associated with such activities.
General Munir made the remarks during a recent meeting of the Provincial Apex Committee held in Karachi. At the meeting, he received updates on various important matters, including the Revised National Action Plan, ongoing operations in the Kacha Area of Sindh, the security of foreign nationals employed in projects related to the CPEC as well as non-CPEC and private ventures.
The discussions touched on the repatriation of illegal foreign residents, measures to regulate foreign currency transactions, progress reports on the Karachi Transformation Plan, advancements in projects under the Sindh Infrastructure Development Company (SIFC), and initiatives aimed at promoting environmental sustainability in Sindh.
The Army Chief stressed the need for close collaboration and synergy among all relevant government departments to ensure the successful implementation of these significant initiatives.
The meeting reaffirmed the collective commitment of state institutions, government departments, and the public to advance the province's progress and prosperity.
Upon his arrival, General Munir was warmly welcomed by the Commander of Karachi Corps.