CPEC brought $ 25.4 billion in direct investment to Pakistan: Ambassador Jiang Zaidong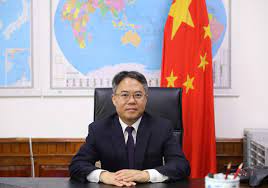 Islamabad: Chinese Ambassador to Pakistan Jiang Zaidong has said that the China-Pakistan Economic Corridor (CPEC) has brought a total of US $25.4 billion in direct investment, 155,000 direct jobs, 510 kilometres of expressways, 8,200 megawatts of power capacity and 886 kilometres of core power transmission grid to Pakistan.
In a meeting here with Caretaker Minister for Planning and Development Sami Saeed, he maintained that CPEC had changes lives of scores of people.
During the meeting, both sides discussed various CPEC projects and reaffirmed their resolve to strengthen relations between the two countries.
Ambassador Jiang Zaidong praised Pakistan's efforts in implementing CPEC, especially the second phase.
He acknowledged the fruitful outcomes achieved through joint efforts, covering areas such as industry, agriculture, Information Technology disaster prevention, and mitigation.
The Ambassador appreciated the Planning Ministry's vital role in CPEC implementation, noting its significant contributions to promoting Pakistan's economic and social development, upgrading infrastructure, improving the well-being of the Pakistani people, enhancing people-to-people contacts, and deepening regional connectivity.
On the occasion, Caretaker Minister for Planning and Development Sami Saeed mentioned that the second phase of CPEC had officially commenced, and the government's commitment to implementing the CPEC projects remains steadfast,
Saeed highlighted the ongoing development projects under CPEC, emphasizing their potential to transform Pakistan's infrastructure and economy.
He stressed that these projects are not only about physical connectivity but also aim to enhance the lives of the people and promote socio-economic development across the country.
The minister reiterated the commitment to further strengthen these ties.
Furthermore, the Minister emphasized the importance of the Gwadar Port, a strategic project under CPEC, which is poised to become a key maritime gateway connecting Pakistan with the rest of the world.
He said the development of Gwadar Port and its associated free zone is expected to attract foreign investment, stimulate economic activities, and create job opportunities in the region.