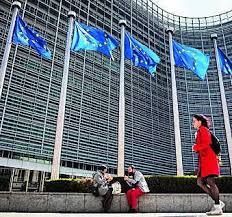 Brussels: The European Commission announced on Monday that it will suspend development aid to Palestine after the recent developments in Israel.
EU Commissioner for Neighbourhood Oliver Varhelyi said on X that the EU executive body, "the biggest donor of the Palestinians," puts on hold its "full development portfolio" of €691 million ($729 million).
"The scale of terror and brutality against Israel and its people is a turning point," Varhelyi asserted.
"There can be no business as usual," he added.
Top EU officials, including European Council chief Charles Michel, European Commission President Ursula von der Leyen, and EU top diplomat Josep Borrell, condemned "in the strongest possible terms the multiple and indiscriminate attacks across Israel by Hamas" over the weekend.
The Gaza-based resistance group Hamas launched Operation Al-Aqsa Flood against Israel early Saturday, firing a barrage of rockets. It said the surprise attack was in response to the storming of Al-Aqsa Mosque in occupied East Jerusalem and increased settler violence.
In retaliation, the Israeli army launched Operation Swords of Iron against Hamas in the Gaza Strip.
At least 800 Israelis have been killed and over 2,300 others wounded in the fighting, according to the Israeli Health Ministry.
The Palestinian Health Ministry said that over 560 Palestinians died and over 2,900 were wounded.