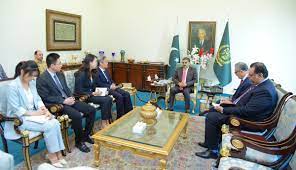 Quetta: Prime Minister Anwaarul Haq and Chief of Army Staff General Asim Munir have directed for enhanced security for the Chinese nationals working in the Balochistan province in the China-Pakistan Economic Corridor (CPEC) projects.
The two were briefed on a range of matters encompassing law enforcement operations, anti-smuggling efforts, and security for Chinese nationals in Balochistan.
The briefing took place during the Provincial Apex Committee meeting, which was also attended by caretaker Chief Minister Balochistan Ali Mardan Khan Domki.
The forum was briefed in detail about the revised National Action Plan, law enforcement operations, anti-smuggling measures, anti-narcotics operations in Balochistan, and the security of foreign nationals employed on both CPEC and non-CPEC private projects.
The participants were also informed about the repatriation of illegal foreigners, measures related to foreign currency regulation, and the progress made on initiatives in the SIFC (Special Investment Facilitation Council) in Balochistan.
During the meeting, the COAS emphasised that the army would offer complete support, in collaboration with law enforcement agencies and other government departments, to enforce actions against a range of "illegal activities" in order to fully prevent the pilferage of resources and the economic losses that the country incurred as a result of those activities.
Prime Minister Kakar xpressed confidence in the progress achieved by the Balochistan government and pledged all-out support from the federal government.
"The socio-economic development of Balochistan is essential to ensure peace and prosperity in the province," PM Kakar said, adding that initiatives undertaken by the SIFC at the federal level should positively impact each province and benefit local communities.
He highlighted that Balochistan possessed abundant mineral resources, and fostering development would stimulate economic activity and create job opportunities for the local population.
He stressed the importance of directing investments toward agriculture and Information Technology (IT) in addition to human resource development.
The prime minister also stressed the necessity of collaboration and coordination among all relevant departments to maximise the positive impact of these initiatives.
The participants expressed their collective commitment, affirming that state institutions, government departments, and the people are unified in their pursuit of progress and prosperity for the province.