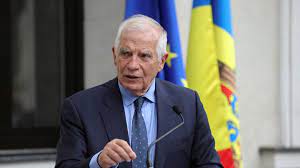 Brussels: At the invitation of Member of the Political Bureau of the CPC Central Committee and Foreign Minister Wang Yi, Josep Borrell, high representative of the European Union (EU) for foreign affairs and security policy and vice president of the European Commission, will pay a visit to China, and the two sides will hold the 12th round of China-EU High-level Strategic Dialogue from October 12 to 14, Chinese Foreign Ministry spokesperson Wang Wenbin announced Wednesday.
China welcomes Borrell's upcoming visit, Wang said at a regular press briefing in Beijing, noting that it is favorable for the healthy, stable development of China-EU ties and serves as good preparation for the next stage of high-level exchanges.
This year marks the 20th anniversary of the establishment of the China-EU comprehensive strategic partnership.
Since the beginning of this year, the leaders of China and the EU have interacted frequently, and dialogue and cooperation have resumed across the board, showing a positive momentum for advancing bilateral ties, said Wang.
He noted that as two major forces, markets and civilizations in the world, China and the EU have broad common interests in maintaining global peace and stability, promoting the world's development and prosperity, and advancing human civilizations. Their relationship bears global significance, Wang added.
China is ready to work with the EU to stay committed to their comprehensive strategic partnership, step up strategic communication and coordination, enhance mutual trust, focus on cooperation, overcome interference and properly address differences, said the spokesperson.
Last week, during a phone call with Borrell, Wang Yi noted that China expects the meeting to play a vital role in promoting China-EU relations and bilateral cooperation.