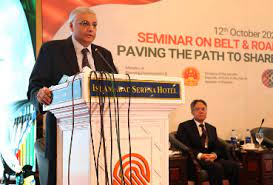 Islamabad: Caretaker Minister for Planning, Development, and Special Initiatives, Muhammad Sami Saeed has emphasized that work on the second phase of the China-Pakistan Economic Corridor (CPEC) was in full swing.
He reaffirmed the interim government's strong commitment to executing these development projects with dedication.
Sami Saeed conveyed these remarks during his address at a seminar titled "Paving the Path to Shared Prosperity," which focused on the Belt and Road Initiative (BRI).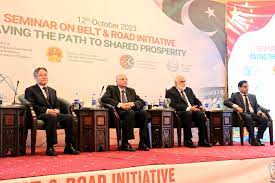 The event was organized by the Centre of Excellence, CPEC, at Quaid-e-Azam University (QUA). Chinese Ambassador to Pakistan, Jiang Zaidong, was the distinguished guest at the conference, and it was attended by the Vice Chancellor of QAU, the Project Director of CPEC, along with numerous policymakers and experts.
It was announced that the third Belt and Road Forum for International Cooperation would take place in Beijing from October 17 to 18, with Prime Minister Anwaarul Haq Kakar representing Pakistan. The forum's agenda would encompass various areas such as Research and Innovation, Communication, Science and Technology, Industry, Agriculture, Energy, Tourism, and more.
Sami Saeed stressed that the Belt and Road Initiative went beyond being a network of infrastructure; it symbolized a collective belief in the power of collaboration to create a world of limitless opportunities and cross-border prosperity.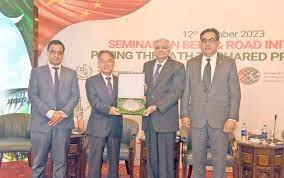 He acknowledged the significant progress in the second phase of CPEC and expressed gratitude for China's consistent support in project implementation.
The second phase of CPEC had already commenced, and despite challenges including security concerns, political instability, and the COVID-19 pandemic since its inception in 2013, both China and Pakistan remained steadfast in their commitment to CPEC. It has evolved from a mere connectivity project into a symbol of enduring regional cooperation, promising substantial development and stability.
During the seminar, several sessions addressed topics like Trade & Industrial Cooperation, Cultural Exchange & Connectivity, Financial Sector Integration, and CPEC & BRI Integration. Each session was moderated by experts who highlighted key features and insights.
Sami Saeed also commended the Centre of Excellence for its significant role in producing CPEC-related research and anticipated more productive research in the future.
He mentioned the establishment of the Centre on Modern Earth, Minerals & Natural Resources at QUA, which would collaborate with China to modernize the mineral sector.
On the occasion, Chinese Ambassador Jiang Zaidong praised the Centre of Excellence CPEC and the Planning Ministry for organizing the seminar, particularly given the impending BRI forum.
He acknowledged the remarkable achievements realized through the guidance of leaders from both China and Pakistan, recalling President Xi Jinping's historic visit in 2015, which accelerated the construction of CPEC.
The Chinese Ambassador expressed continued support from China in the implementation of CPEC projects and emphasized that CPEC's success could be attributed to its alignment with the principles of the BRI, fostering openness, inclusivity, and mutual benefits. He also commended Pakistan's security measures to safeguard Chinese personnel working on various projects within Pakistan.