Ethiopia, Pakistan for formation of joint working group on education cooperation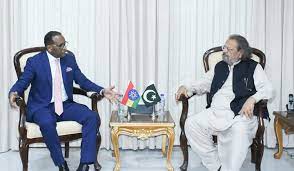 Celina Ali
Islamabad: The Federal Democratic Republic of Ethiopia (FDRE) and Pakistan have agreed on the formation of a Joint Working Group (JWG) in order to pursue and coordinate collaboration between the two countries in the education sector.
The formation of JWG on education collaboration came under discussion during a meeting between Ambassador Extraordinary and Plenipotentiary of the FDRE to Pakistan Jemal Beker Abdula and Federal Minister for Education and Professional Training Madad Ali Sindhi. During the meeting, both dignitaries discussed matters of mutual interest including bilateral cooperation in the education sector especially in areas of higher education and vocational training.
On the occasion, the Minister said that a Joint Working Group would be formulated which could pave the way for the signing of a Memorandum of Understanding between the two countries. Madad Ali Sindhi emphasized the importance of exchanging expertise and knowledge in the field of Vocational and Technical Training, highlighting the immense benefits that both countries could derive from each other's experiences.
Ambassador Jemal Beker Abdula welcomed the idea of the formation of a Joint Working Group and stressed the need for exchanging experts' delegations for advancing the cooperation in the education sector. He said his country was keen to boost bilateral cooperation between the two countries in the education sector and would make all-out efforts in this regard.
The Ambassador also requested the minister to provide scholarships to Ethiopian students in Pakistan's public sector universities. There is a strong connection between the people of Ethiopia and Pakistan, he said while recalling 2022 floods in Pakistan when the Ethiopian doctors, who studied from Pakistani universities, expressed their readiness to support their brothers and sisters in the trying times.
Furthermore, the ambassador invited the minister to visit Ethiopia which was not only the land of origins but also the land of Hazrat Bilal Habashi and King Nejashi. The Federal Minister thanked the Ambassador and highlighted the cordial and friendly relations between the two countries that are deeply rooted in shared history and values including justice, peace and global development on equal grounds.