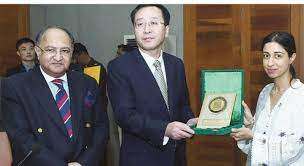 Karachi: The Consul General of the People's Republic of China Yang Yundong visited the office of All Pakistan Newspapers Society (APNS) here.
The President of APNS Nazafreen Saigol Lakhani and Sarmad Ali, Secretary General APNS, welcomed the guest and stated that Yang Yundong was the first diplomat to visit APNS House, said an official statement.
Yang Yundong thanked APNS for inviting him to their office saying the 3rd Belt and Road Forum (BRF) will be held in Beijing on October 17 and 18, 2023 in which more than 130 countries and over 30 International Organizations are expected to participate.
The Chinese Consul General said the Belt and Road Forum under the theme of high quality Belt and Road Cooperation, together for common development and prosperity will provide an opportunity for progress and development of the region and the globe.
The Consul General added that 2023 marks the 10th anniversary of the Belt and Road Initiative (BRI). Over the past decade, the BRI has established more than 3,000 cooperation projects and galvanized nearly US $1 trillion of investment, creating an array of livelihood projects and milestones of cooperation.
Referring to China Pakistan Economic Corridor projects, Yang Yundong said this is a pilot project of the BRI and the landmark project for China-Pakistan cooperation in the new era.
He said the Chinese media sector has made several advancements according to the needs of the modern age. He welcomed Pakistani media and APNS taking benefit from it and the Chinese media will be happy to get suggestions from the APNS to boosting the China-Pakistan relations, better development of CPEC and media exchanges and collaborations.
"We are looking forward to working with all of you strengthen the iron-clad friendship between China and Pakistan and promote friendly cooperation," he remarked.