Pakistan optimistic about Pakistan-China leadership's upcoming meetings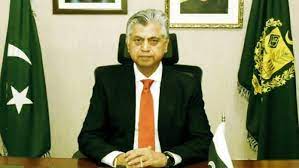 Islamabad: Caretaker Federal Minister for Information and Broadcasting, Murtaza Solangi said that the upcoming meetings between the top leadership of Pakistan and China would substantially strengthen the bilateral relationship.
This was in anticipation of the caretaker Prime Minister, Anwaarul Haq Kakar's upcoming journey to China to participate in the Belt and Road Forum hosted by Chinese President Xi Jinping in Beijing.
In a media interaction, Solangi expressed his delight at the inclusion of grassroots individuals who were invited to share their experiences of the positive impacts of the China-Pakistan Economic Corridor (CPEC) on their lives.
He emphasized the significant benefits the people have reaped from various CPEC projects, including the Orange Train in Lahore, Thar Coal in Sindh, and Gwadar in Balochistan.
Solangi discussed Pakistan's initiative in establishing the Special Investment Facilitation Council, aimed at providing streamlined services for investors.
He noted that with CPEC entering a new phase, Pakistan was eager to foster more bilateral cooperation, particularly in mining, agriculture, Information Technology (IT), and other sectors.
He highlighted the importance of improved transportation systems, such as road, rail, and air connectivity, in promoting people-to-people contacts and enhancing academic linkages.
Solangi also stressed that increased trade and business activities would lead to integrated development, fostering harmony and sustainable progress. He described CPEC as a journey toward economic growth in the globalized world.